Manejo anestesiológico en el trasplante renal parte I. Cuidados preoperatorios e intraoperatorios del receptor.
Palabras clave:
Trasplante renal, Cuidados preoperatorios, cuidados intraoperatorios, anestesia, receptor órgano sólido
Resumen
El trasplante renal es el tratamiento de elección en la enfermedad renal crónica terminal. Este artículo proporciona una revisión actualizada del manejo anestesiológico del receptor en la cirugía de trasplante renal, centrándose los cuidados preoperatorios e intraoperatorios. La principal causa de muerte tras el trasplante renal son las complicaciones cardiacas, por lo que una evaluación cardiológica es fundamental en estos pacientes. En cuanto al periodo intraoperatorio, revisamos qué fármacos son los más adecuados junto a consideraciones anestésicas del manejo hemodinámico
Citas
2014 ESC/ESA Guidelines on non-cardiac surgery: cardiovascular assessment and management: The Joint Task Force on non-cardiac surgery: cardiovascular assessment and management of the European Society of Cardiology (ESC) and the European Society of Anaesthesiology (ESA). Eur Heart J. 2014 Sep 14;35(35):2383–431.
Mittel AM, Wagener G. Anesthesia for Kidney and Pancreas Transplantation. Anesthesiology Clinics. 2017 Sep;35(3):439–52.
Lentine KL, Costa SP, Weir MR, Robb JF, Fleisher LA, Kasiske BL, et al. Cardiac Disease Evaluation and Management Among Kidney and Liver Transplantation Candidates. Journal of the American College of Cardiology. 2012 Jul;60(5):434–80.
Kasiske BL, Snyder JJ, Matas AJ, Ellison MD, Gill JS, Kausz AT. Preemptive kidney transplantation: the advantage and the advantaged. J Am Soc Nephrol. 2002 May;13(5):1358–64.
Meier-Kriesche HU, Port FK, Ojo AO, Rudich SM, Hanson JA, Cibrik DM, et al. Effect of waiting time on renal transplant outcome. Kidney Int. 2000 Sep;58(3):1311–7.
Schmid S, Jungwirth B. Anaesthesia for renal transplant surgery: an update. European Journal of Anaesthesiology. 2012 Dec;29(12):552–8.
Calixto-Flores A, Román-Sánchez M, Jiménez-Sánchez E, Cruz-Santiago J, Meza-Jiménez G, Bernáldez-Gómez G. Evaluation of Renal Function at 24, 48, and 72 Hours and 3 Months After Transplant: Comparison of 3 Anesthetic Techniques. Transplantation Proceedings. 2020 May;52(4):1094–101.
Staals LM, Snoeck MMJ, Driessen JJ, van Hamersvelt HW, Flockton EA, van den Heuvel MW, et al. Reduced clearance of rocuronium and sugammadex in patients with severe to end-stage renal failure: a pharmacokinetic study†. British Journal of Anaesthesia. 2010 Jan 1;104(1):31–9.
Panhuizen IF, Gold SJA, Buerkle C, Snoeck MMJ, Harper NJN, Kaspers MJGH, et al. Efficacy, safety and pharmacokinetics of sugammadex 4 mg kg-1 for reversal of deep neuromuscular blockade in patients with severe renal impairment. Br J Anaesth. 2015 May;114(5):777–84.
Adams DR, Tollinche LE, Yeoh CB, Artman J, Mehta M, Phillips D, et al. Short-term safety and effectiveness of sugammadex for surgical patients with end-stage renal disease: a two-centre retrospective study. Anaesthesia. 2020;75(3):348–52.
Gonsowski CT, Laster MJ, Eger EI, Ferrell LD, Kerschmann RL. Toxicity of compound A in rats. Effect of a 3-hour administration. Anesthesiology. 1994 Mar;80(3):556–65.
Ebert TJ, Arain SR. Renal responses to low-flow desflurane, sevoflurane, and propofol in patients. Anesthesiology. 2000 Dec;93(6):1401–6.
Lee HT, Ota-Setlik A, Fu Y, Nasr SH, Emala CW. Differential protective effects of volatile anesthetics against renal ischemia-reperfusion injury in vivo. Anesthesiology. 2004 Dec;101(6):1313–24.
Motayagheni N, Phan S, Eshraghi C, Nozari A, Atala A. A Review of Anesthetic Effects on Renal Function: Potential Organ Protection. Am J Nephrol. 2017;46(5):380–9.
Lugo-Baruqui JA, Ayyathurai R, Sriram A, Pragatheeshwar KD. Use of Mannitol for Ischemia Reperfusion Injury in Kidney Transplant and Partial Nephrectomies—Review of Literature. Curr Urol Rep. 2019 Jan;20(1):6.
Sandal S, Bansal P, Cantarovich M. The evidence and rationale for the perioperative use of loop diuretics during kidney transplantation: A comprehensive review. Transplantation Reviews. 2018 Apr 1;32(2):92–101.
Weinberg L, Harris L, Bellomo R, Ierino FL, Story D, Eastwood G, et al. Effects of intraoperative and early postoperative normal saline or Plasma-Lyte 148® on hyperkalaemia in deceased donor renal transplantation: a double-blind randomized trial. Br J Anaesth. 2017 Oct 1;119(4):606–15.
Pfortmueller C, Funk G-C, Potura E, Reiterer C, Luf F, Kabon B, et al. Acetate-buffered crystalloid infusate versus infusion of 0.9% saline and hemodynamic stability in patients undergoing renal transplantation : Prospective, randomized, controlled trial. Wien Klin Wochenschr. 2017 Sep;129(17–18):598–604.
Ciapetti M, di Valvasone S, di Filippo A, Cecchi A, Bonizzoli M, Peris A. Low-Dose Dopamine in Kidney Transplantation. Transplantation Proceedings. 2009 Dec;41(10):4165–8.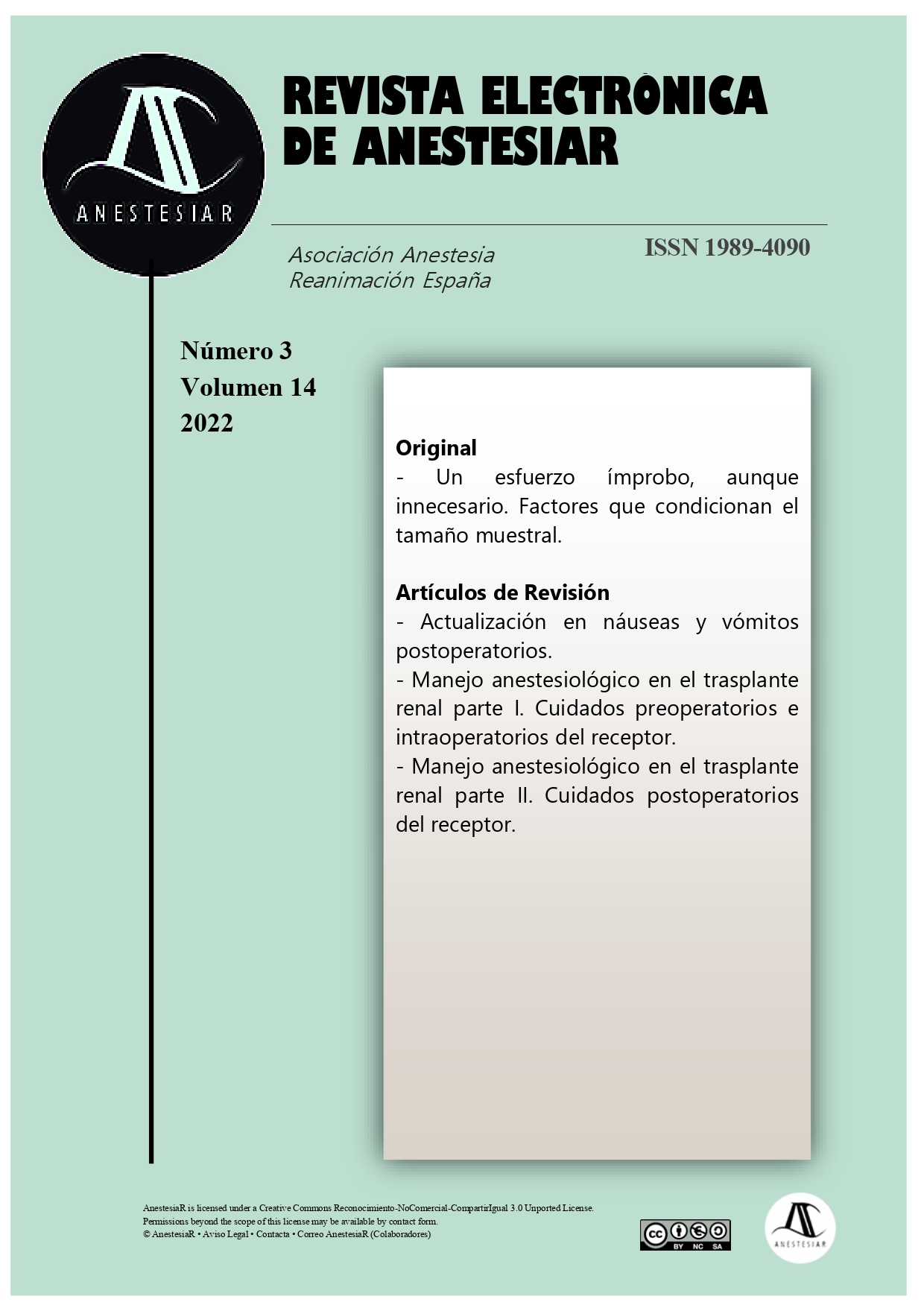 Descargas
Cómo citar
Cifuentes Garcia, B., Iñiguez de Onzoño Pérez, Álvaro ., López- Torres López, J. ., & Flores García, J. A. . (2022). Manejo anestesiológico en el trasplante renal parte I. Cuidados preoperatorios e intraoperatorios del receptor. Revista Electrónica AnestesiaR, 14(3). https://doi.org/10.30445/rear.v14i3.1001
Sección
Artículos de revisión
Licencia
Derechos de autor 2022 Revista Electrónica AnestesiaR
Esta obra está bajo una licencia internacional Creative Commons Atribución-CompartirIgual 4.0.