Actualización en el manejo anestésico del paciente obeso. ¿Lo sabemos todo?
Artículo original: Bazurro S, Ball L, Pelosi P. Perioperative management of obese pacient. Current opinion in Critical Care 2018, 24 (6): 560-567.
Palabras clave:
obesidad, manejo periperatorio, anestesia, Obesity, anaesthesia, perioperative management
Resumen
 La obesidad creciente en nuestro medio es un factor de riesgo para la aparición de complicaciones perioperatorias.  Un manejo perioperatorio individualizado, teniendo en cuenta la idiosincrasia de estos pacientes es esencial para mejorar los resultados y la seguridad del procedimiento quirúrgico. Un manejo anestesico adecuado puede cambiar sustancialmente el desenlace vital de estos pacientes.
ABSTRACT
Anesthetic management of obese patient update. Do we know everything?
 Obesity is a growing risk factor that leads to perioperative complications increase. An appropriate preoperative evaluation, intraoperative management and monitoring during the postoperative period is essential to improve safety during the surgical procedure. These patients present criteria of difficult intubation and ventilation, respiratory complications, especially the Apnea / hypopnea sleep syndrome (OSA); metabolic syndrome; prothrombotic state and cardiovascular complications. The commented article described the physiopathological characteristics and current recommendations of the anesthetic management for these patients.
Citas
- OMS, informe 16 febrero de 2018. http://apps.who.int/mediacentre/factsheets/fs311/es/index.html

- Estrategia NAOS Ministerio de Sanidad y Consumo. www.aecosan.msssi.gob.es/AECOSAN/docs/documentos/nutricion/estrategianaos.pdf

- Nightingale CE, Margarson MP, Shearer E, Redman JW, Lucas DN et al. Guidelines: Perioperative management of the obese surgical patient 2015. Anaesth 2015; 70, 859-76.

- Adams JP, Murphy PG. Obesity in anaesthesia and intensive care, endocrine and metabolic disorders in anaesthesia and intensive care. Br J Anaesth 2000; 85:91-108.

- Fyneface-Ogan S, Aqbam DS, Numbere C. Anaesthesic management of a super morbidly obese patiente for total abdominal hysterectomy: a few lessons to learn. African Health Sciences 2012; 12: 181-5.

- O'Gara B, Talmor D. Perioperative lung protective ventilation BMJ 2018; 10: 362:k3030. doi: 10.1136/bmj.k3030.

- Gaszynski T., Gaszynska E., Szewwczyk T. Dexmedetomidine for awake intubation and a opioid-free general anesthesia in a superobese patient with suspected difficult intubation. Drug Design, Development and Therapy 2014; 8: 909-12.

- Liew NC., Alemany GV., Angchaisuksiri P. Asian venous thromboembolism guidelines: updated recommendations for the prevention of venous thromboembolism. Int Angiol 2017; 36: 1-20.

- Walsh MT. Improving outcomes in ambulatory anesthesia by identifying high risk patients. Anestesiol 2018; 31: 659-66.

- Haskins SC, Kruisselbrink R, Boublik J, Wu CL, Perlas A. Gastric Ultrasound for the Regional Anesthesiologist and Pain Specialist. Reg Anesth Pain Med 2018; 43: 689-98.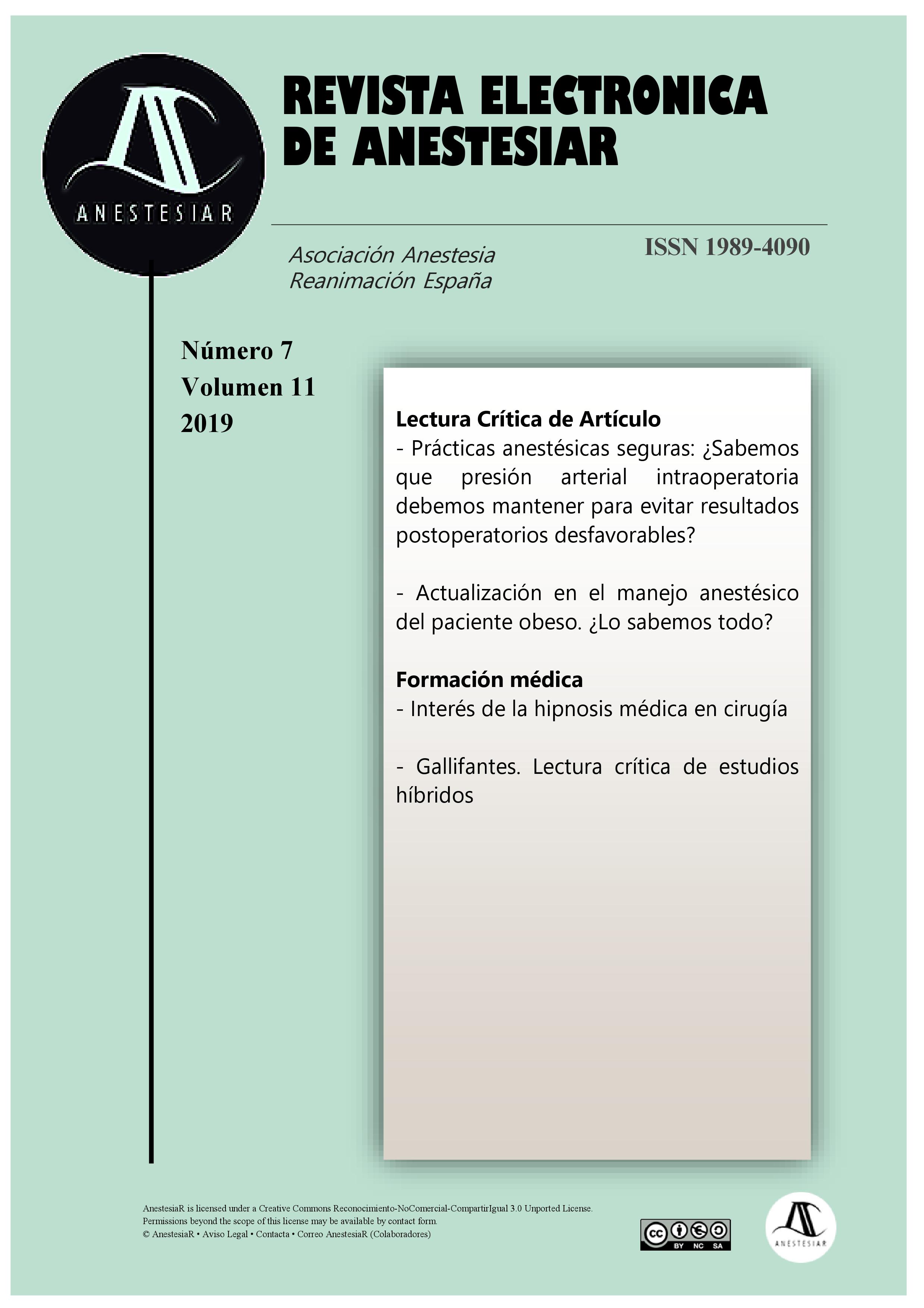 Descargas
Cómo citar
Sánchez Quirós, B., & Herrero, M. A. P. (2019). Actualización en el manejo anestésico del paciente obeso. ¿Lo sabemos todo? Artículo original: Bazurro S, Ball L, Pelosi P. Perioperative management of obese pacient. Current opinion in Critical Care 2018, 24 (6): 560-567. Revista Electrónica AnestesiaR, 11(7), 2. https://doi.org/10.30445/rear.v11i7.766
Sección
Lectura crítica de artículos