Humano vs. maniquíes: los límites éticos de la simulación de la vía aérea en los pacientes
Original: P. A. Ward, M. G. Irwin. Man vs. manikin revisited – the ethical boundaries of simulating difficult airways in patients. Anaesthesia 2016, 71, 1391–1407
Miriam Sánchez Merchante

Servicio de Anestesiología, H.U. Fundación Alcorcón (Madrid)

Eugenio Martínez Hurtado

Servicio de Anestesiología, H.U. Infanta Leonor (Madrid)

Marisa Mariscal Flores

Servicio Anestesiología del H. U. Getafe (Madrid)
Palabras clave:
Etica, Vía Aérea, investigación, simulación, Ethics, airway, research, simulation
Resumen
La investigación en anestesia está, sin duda, dominada por estudios basados ​​en maniquíes, a pesar de las dudas existentes acerca de la validez de extrapolar sus hallazgos a pacientes reales.
Los maniquíes no pueden aún reproducir con total precisión la anatomía de la vía aérea del paciente, careciendo, en particular, de la capacidad de replicar la sensación y la textura de los tejidos humanos, la movilidad de la columna cervical, la variabilidad de las proporciones anatómicas y los cambios patológicos. Todo lo cual resulta en una falta crítica de fidelidad.
ABSTRACT
Human vs. Mannequins: ethical boundaries of airway simulation in patients.
Research in anaesthesia is dominated without any doubt, by studies based on mannequins, despite the existing doubts about the validity of extrapolate its revelations to real patients.
Mannequins are not able to fully reproduce the airway patient´s anatomy, lacking the ability of replicate specially human tissues´ structure and sensation, cervical spine mobility, anatomic proportions variability and pathological changes, which results in a critical allegiance failure.
Citas
- Rai MR, Popat MT. Evaluation of airway equipment: man or manikin? Anaesthesia 2011; 66: 1–3.

- De Luca A, Sall FS, Sailley R, Capellier G, Khoury A. Reliability of manikinbased studies: an evaluation of manikin characteristics and their impact on measurements of ventilatory vari-ables. Anaesthesia 2015; 70: 915–21.

- Schebesta K, H€upfl M, R€ossler B, Ringl H, M€uller MP, Kimberger O. Degrees of reality: airway anatomy of high-fidelity human patient simulators and airway trainers. Anesthesiol-ogy 2012; 116: 1204–9.

- Hesselfeldt R, Kristensen MS, Rasmussen LS. Evaluation of the airway of the SimMan full-scale patient simulator. Acta Anaesthesiologica Scandinavica 2005; 49: 1339–45.

- Jordan GM, Silsby J, Bayley G, Cook TM. Evaluation of four manikins as simulators for teaching airway management procedures specified in the Difficult Airway Society guide-lines, and other advanced airway skills. Anaesthesia 2007; 62: 708–12.

- Cook TM. Novel airway devices: spoilt for choice? Anaesthesia 2003; 58: 107–10.

General Medical Council (UK). Standards and ethics guidance for doctors. http://www/gmc-uk.org/guidance/good_medical_practice.asp (accessed 10/04/2016).

- World Medical Association. World Medical Association Declaration of Helsinki: Ethical principles for medical research involving human subjects, 2013. http://www.wma.net/en/30publications/10policies/b3/ (accessed 10/04/2016).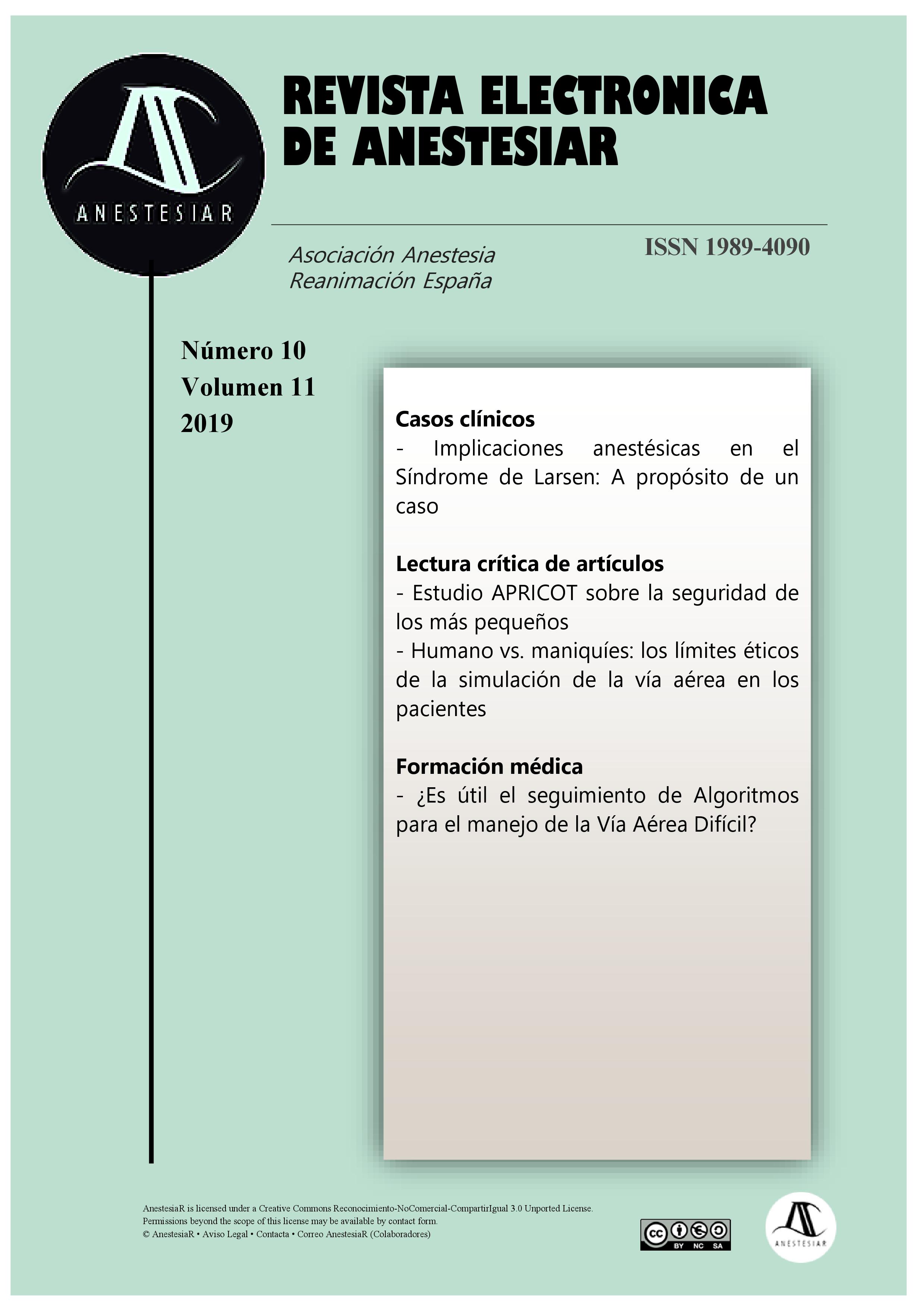 Cómo citar
Sánchez Merchante, M., Martínez Hurtado, E., & Mariscal Flores, M. (2019). Humano vs. maniquíes: los límites éticos de la simulación de la vía aérea en los pacientes. Revista Electrónica AnestesiaR, 11(10), 3. https://doi.org/https://doi.org/10.30445/rear.v11i10.738
Sección
Lectura crítica de artículos
Esta obra está bajo licencia internacional
Creative Commons Reconocimiento-CompartirIgual 4.0
.