Despertar Intraoperatorio en Cesáreas con Anestesia General
Paech MJ, Scott KL, Clavisi O, Chua S, McDonnell N, the ANZCA Trials Group. A prospective study of awareness and recall associated with general anaesthesia for caesarean section. Int J Obstet Anesth 2009;17, 298-303.
Palabras clave:
Anestesia general, anestesia obstétrica, bibliografí­a, cesárea, complicación, despertar intraoperatorio, obstetricia
Resumen
Clásicamente las pacientes obstétricas sometidas a anestesia general para cesárea han tenido una incidencia de despertar intraoperatorio (DIO) mayor que el resto de la población general (0,4 a 1,3% frente a 0,1-0,2%). Los factores implicados se deben no sólo a los cambios fisiológicos en la embarazada sino a una técnica de inducción de secuencia rápida que excluye los opioides para evitar la depresión del neonato y la reducción intencionada en la fracción inspirada de anestésicos inhalados con el fin de evitar el efecto tocolítico de éstos y el riesgo hemorrágico que conllevan. Este estudio trata de comprobar si los nuevos avances en la anestesia obstétrica han disminuido la incidencia de este evento.
Citas
1.- Sandin RH, Enlund G, Samuelsson P, Lenmarken C. Awareness during anaesthesia: A prospective case study. Lancet 2000; 355: 707-11.
2.- Sebel PS, Bowdle TA, Ghoneim MM, Rampil IjmPadilla RE, et al. The incidence of awareness during anesthesia: a multicenter United States study. Anesth Analg 2004; 99 :833-9.
3.- Planas Roca A, Hernández Salván J, Riquelme Osado I. Factores de riesgo del despertar intraoperatorio. Grupo de trabajo de despertar intraoperatorio de la Sociedad Madrid Centro de Anestesiología y Reanimación. Madrid: Ergón; 2006.
4.- Errando CL, Sigl JC, Robles M, Calabuig E. Awareness with recall during general anaesthesia: a prospective observational evaluation of 4001 patients. Br J Anaesth 2008; 101(2): 178-185.
5.- Porras Muñoz MC, Peña García L. Prevención del despertar intraoperatorio. Grupo de trabajo de despertar intraoperatorio de la Sociedad Madrid Centro de Anestesiología y Reanimación. Madrid: Ergón; 2006.
6.- American Society of Anesthesiologists Task Force on Intraoperative Awareness. Practice Advisory for Intraoperative Awareness and Brain Function Monitoring. Anesthesiology 2006; 104:847-64.
7.- Chin KJ, Yeo SW. A BIS-guided study of sevoflurane requirements for adequate depth of anaesthesia in Caesarean section. Anaesthesia 2004; 59 (11): 1064-68.
8.- Yeo SN, Lo WK. Bispectral Index in assessment o adequacy of general anaesthesia for lower segment caesarean section. Anaesth Intensive Care 2002; 30: 36-40.
9.- Hill D. The use of remifentanil in obstetrics. Anesthesiol Clin 2008; 26 (1): 169-82 viii.
10.- Dahlgren G, Törnberg DC, Pregner K, Irestedt L. Four cases of the ex utero intrapartum treatment (EXIT) procedure : anesthetic implications. Int J Obstet Anesth 2004; 13:178-182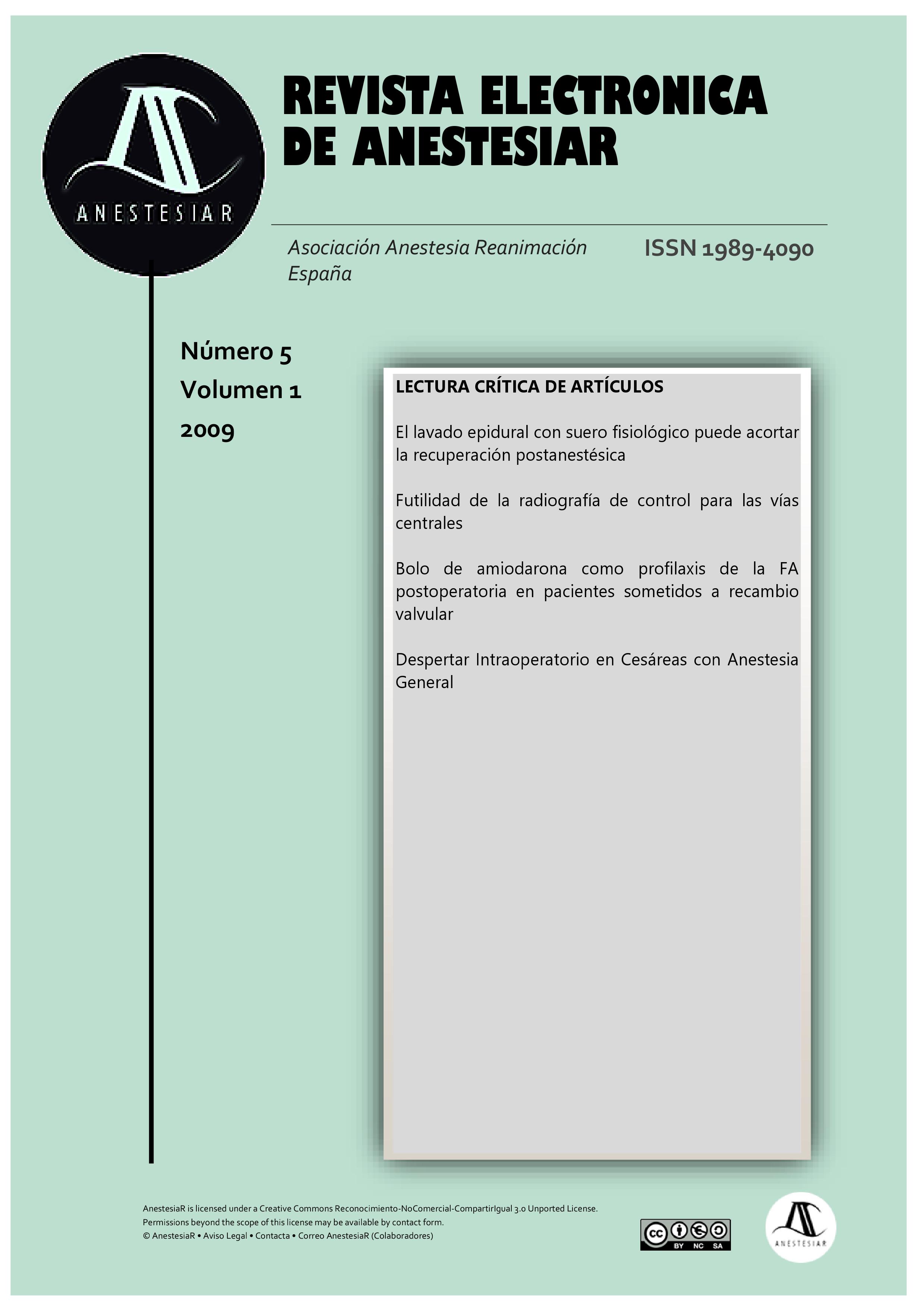 Cómo citar
Bermejo, L. (2009). Despertar Intraoperatorio en Cesáreas con Anestesia General: Paech MJ, Scott KL, Clavisi O, Chua S, McDonnell N, the ANZCA Trials Group. A prospective study of awareness and recall associated with general anaesthesia for caesarean section. Int J Obstet Anesth 2009;17, 298-303. Revista Electrónica AnestesiaR, 1(5), 4. https://doi.org/10.30445/rear.v1i5.565
Sección
Comentarios de artículos