Electroencefalografía en Cuidados Críticos
Palabras clave:
EEG, críticos, Formación, Monitorización, Reanimación
Resumen
La electroencefalografía es la ciencia que estudia mediante un registro gráfico, en papel o digital, la actividad eléctrica generada por el córtex cerebral, en tiempo real, presentando una resolución temporal entre 2-4 mseg. Se registra mediante electrodos colocados en cuero cabelludo. Normalmente se utiliza el sistema internacional 10-20 para obtener una adecuada localización topográfica de las señales generadas en el córtex.
La señal obtenida, corresponde a la suma de los potenciales de acción postsinápticos de las neuronas piramidales de la corteza cerebral. Esta señal es amplificada por diversos equipos informáticos, y tiene una correlación espacial dada por los distintos electrodos.
 Mediante el EEG, se puede obtener información localizada, y en tiempo real de distintos procesos que alteran la función normal de la corteza cerebral, ya sean focos epileptógenos, lesiones focales, procesos isquémicos o metabólicos.
Además permite evaluar el nivel de consciencia, y sus distintas fluctuaciones, la reactividad cortical a diversos estímulos. Tiene un valor pronóstico en función de los distintos patrones registrados y permite evaluar el ciclo vigilia-sueño.
Citas
1.- Hans-Christian Hansen, Jan Claassen. EEG and Evoked Potentials in Neuroanesthesia, Intraoperative Neurological Monitoring, and Neurointensive Care; Niedermeyer, Ernst; da Silva, Fernando Lopes Da Silva. Electroencephalography, basic principles, clinical applications, and related fields. 5th Edition.
2.- Gil-Nagel A, Parra J, Iriarte J, Kanner A M. Manual de electroencefalografía.
3.- Scheuer ML.Continuous EEG monitoring in the intensive care unit. Epilepsia. 2002;43 Suppl 3:114-27.
4.- Pandian JD, Cascino GD, So EL, Manno E, Fulgham JR. Digital video-electroencephalographic monitoring in the neurologicalneurosurgical intensive care unit: clinical features and outcome. Arch Neurol 2004;61:1090–4.
5.- Friedman D, Claassen J, Hirsch LJ. Continuous electroencephalogram monitoring in the intensive care unit. Anesth Analg. 2009 Aug;109(2):506-23.
6.- Claassen J, Lokin JK, Fitzsimmons BF, Mendelsohn FA, Mayer SA. Predictors of functional disability and mortality after status epilepticus. Neurology. 2002 Jan 8;58(1):139-42.
7.- Maganti R, Gerber P, Drees C, Chung S. Nonconvulsive status epilepticus. Epilepsy Behav. 2008 May;12(4):572-86. Epub 2008 Jan 11. Review.
8.- Bauer G, Trinka E. Nonconvulsive status epilepticus and coma. Epilepsia. 2010 Feb;51(2):177-90. Epub 2009 Sep 10.
9.- Fernández-Torre JL. Nonconvulsive status epilepticus in comatose adults. Rev Neurol. 2010 Mar 1;50(5):300-8.
10.- Hirsch LJ, Claassen J, Mayer SA, Emerson RG. Stimulus-induced rhythmic, periodic, or ictal discharges (SIRPIDs): a common EEG phenomenon in the critically ill. Epilepsia. 2004 Feb;45(2):109-23.
11.- Jordan KG. Continuous EEG monitoring in the neuroscience intensive care unit and emergency department. J Clin Neurophysiol. 1999 Jan;16(1):14-39.
12.- Claassen J, Hirsch LJ, Kreiter KT, Du EY, Connolly ES, Emerson RG, Mayer SA. Quantitative continuous EEG for detecting delayed cerebral ischemia in patients with poor-grade subarachnoid hemorrhage. Clin Neurophysiol. 2004 Dec;115(12):2699-710.
13.- Rodríguez García PL, Rodríguez Pupo LR, Rodríguez García D. [Diagnosis of delayed cerebral ischaemia and cerebral vasospasm in subarachnoid haemorrhage]. Neurologia. 2010 Jun;25(5):322-30.
14. Vespa PM, O'Phelan K, Shah M, Mirabelli J, Starkman S, Kidwell C, Saver J, Nuwer MR, Frazee JG, McArthur DA, Martin NA. Acute seizures after intracerebral hemorrhage: a factor in progressive midline shift and outcome. Neurology. 2003 May 13;60(9):1441-6.
15. Theilen HJ, Ragaller M, Tschö U, May SA, Schackert G, Albrecht MD. Electroencephalogram silence ratio for early outcome prognosis in severe head trauma. Crit Care Med. 2000 Oct;28(10):3522-9.
16. Berkhoff M, Donati F, Bassetti C. Postanoxic alpha (theta) coma: a reappraisal of its prognostic significance. Clin Neurophysiol. 2000 Feb;111(2):297-304.
17. Rossetti AO, Carrera E, Oddo M. Early EEG correlates of neuronal injury after brain anoxia. Neurology. 2012 Mar 13;78(11):796-802. Epub 2012 Feb 8.
18. Ortega-Albás JJ, Serrano-García AL. Neurophysiology in Creutzfeldt-Jakob disease. Rev Neurol. 2003 Feb 15-28;36(4):376-80.
19. Herrera-Peco I, Ortega GJ, Hernando-Requejo V, Sola RG, Pastor J. Voltage sources in mesial temporal area induced by etomidate. Rev Neurol. 2010 Sep 1;51(5):263-70.
20. Voss LJ, Sleigh JW, Barnard JP, Kirsch HE. The howling cortex: seizures and general anesthetic drugs. Anesth Analg. 2008 Nov;107(5):1689-703.
21. Martínez-Rodríguez JE, Barriga FJ, Santamaria J, Iranzo A, Pareja JA, Revilla M, dela Rosa CR. Nonconvulsive status epilepticus associated with cephalosporins in patients with renal failure. Am J Med. 2001 Aug;111(2):115-9.
22. Bellon A, Perez-Garcia G, Coverdale JH, Chacko RC. Seizures associated with levofloxacin: case presentation and literature review. Eur J Clin Pharmacol. 2009 Oct;65(10):959-62. Epub 2009 Aug 26.
23. White DM, Van Cott AC. EEG artifacts in the intensive care unit setting. Am J Electroneurodiagnostic Technol. 2010 Mar;50(1):8-25.
24. Tatum WO, Dworetzky BA, Freeman WD, Schomer DL. Artifact: recording EEG in special care units. J Clin Neurophysiol. 2011 Jun;28(3):264-77.
25. McMenamin BW, Shackman AJ, Greischar LL, Davidson RJ. Electromyogenic Artifacts and Electroencephalographic Inferences Revisited. Neuroimage. 2011 Jan 1;54(1):4-9. Epub 2010 Aug 2.
26. Hardin KA. Sleep in the ICU: potential mechanisms and clinical implications. Chest. 2009 Jul;136(1):284-94.
27. Bourne RS, Minelli C, Mills GH, Kandler R. Clinical review: Sleep measurement in critical care patients: research and clinical implications. Crit Care. 2007;11(4):226.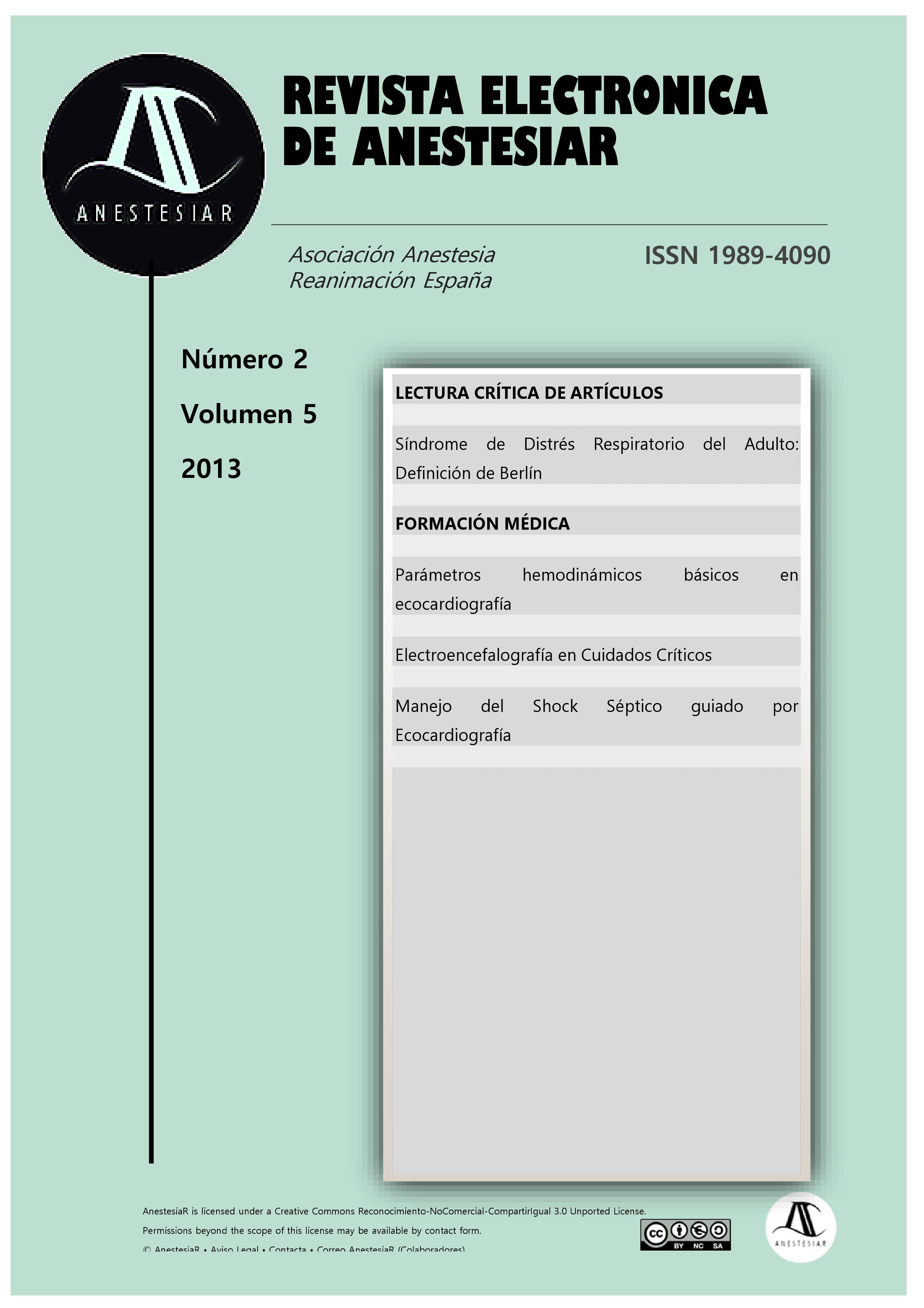 Cómo citar
García Bellón, M., & Soria Bretones, C. (2013). Electroencefalografía en Cuidados Críticos. Revista Electrónica AnestesiaR, 5(2), 3. https://doi.org/10.30445/rear.v5i2.284
Sección
Artículos de revisión