Diagnóstico de laringoespasmo mediante laringoscopio óptico Airtraq tras extubación accidental
Guillermo Napal Ongay

FEA Anestesia y Reanimación. Hospital García Orcoyen, Departamento de Anestesia y Reanimación.

Miguel Castañeda Pascual

FEA Anestesia y Reanimación. Complejo Hospitalario de Navarra, Departamento de Anestesia y Reanimación.

Mikel Ansó Navarro

FEA Anestesia y Reanimación. Hospital San Pedro-Rioja Salud, Departamento de Anestesia y Reanimación.

María Polo Gil

FEA Anestesia y Reanimación. Hospital García Orcoyen, Departamento de Anestesia y Reanimación.
Palabras clave:
Vídeolaringoscopio, Airtraq, Extubación accidental, Laringoespasmo, Videolaryngoscope, Accidental extubation, Laryngoespasm
Resumen
Manejo de vía aérea tras extubación accidental en paciente colocado en decúbito lateral mediante videolaringoscopio óptico indirecto. Diagnóstico y manejo de laringoespasmo secundario tras la extubación gracias a dicho dispositivo.
ABSTRACT
Diagnosis of laryngospasm by using AIRTRAQ videolaryngoscope after accidental extubation
Airway Management after accidental extubation during a shoulder surgery in lateral decubitus position using AIRTRAQ videolaryngoscope. Diagnosis and management of layngospasm as a consequence of the accidental extubation.
Citas
-Komatsu R1, Kamata K, You J, Sessler DI, Kasuya Y. Airway Scope for Tracheal Intubation in the Lateral Position. Anesth Analg. 2011 Apr;112(4):868-74

- R. Guerrero-Domínguez, E. Acebedo-Martínez, D. López-Herrera-Rodríguez, I. Jiménez. Extubación accidental intraoperatoria en una paciente con síndrome de Treacher Collins: utilidad del videolaringoscopio GlideScope. Revista Española de Anestesiología y Reanimación. Oct 2014; Vol. 61. Núm. 8: 417-76

- Germano De Cosmo and Elisabetta Congedo. Accidental Tracheal Extubation of a Patient in the Prone Position. J Emerg Trauma Shock. 2017 Jan-Mar; 10(1): 2–3.

- Neha Baduni, Manoj K. Sanwal, and Aruna Jain. Intubating laryngeal mask airway–A lifesaver during accidental intraoperative extubation in a case of difficult airway. Anesth Essays Res. 2013 Jan-Apr; 7(1): 139–140.

- Oshika H, Koyama Y, Taguri M, Maruyama K, Hirabayashi G, Yamada SM, Kohno M, Andoh T. Supraglottic airway device versus a channeled or non-channeled blade-type videolaryngoscope for accidental extubation in the prone position. Medicine (Baltimore). 2018 Jun;97(25)

- Salem MR, Crystal GJ, Nimmagadda U. Understanding the Mechanics of Laryngospasm Is Crucial for Proper Treatment. Anesthesiology. 2012 Aug;117(2):441-2

- Rewari V. Reflex Vocal Cord Closure. Anesth Analg. 2007 Feb;104(2):469.

- Li X, Eichinger JK, Hartshorn T, Zhou H, Matzkin EG, Warner JP. A Comparison of the Lateral Decubitus and Beach-chair Positions for Shoulder Surgery:Advantages and Complications. J Am Acad Orthop Surg. 2015 Jan;23(1):18-28.

- Fisher DF, Chenelle CT, Marchese AD, Kratohvil JP, Kacmarek RM. Comparison of Commercial and Noncommercial endotrachealTube-Securing Devices. Respir Care. 2014 Sep;59(9):1315-23.

- Buckley JC, Brown AP, Shin JS, Rogers KM, Hoftman NN. A Comparison of the Haider Tube-Guard® Endotracheal Tube Holder Versus Adhesive Tape to Determine if This Novel Device Can Reduce Endotracheal Tube Movement and Prevent Unplanned Extubation. Anesth Analg. 2016 May;122(5):1439-43.

- Neville DM, Rupani H, Kalra PR, Adeniji K, Quint M, De Vos R, Begum S, Mottershaw M, Fogg C, Jones TL, Lanning E, Bassett P, Chauhan AJ. Exploring the Waveform Characteristics of Tidal Breathing Carbon Dioxide, Measured Using the N-Tidal C Device in Different Breathing Conditions (The General Breathing Record Study): Protocol for an Observational, Longitudinal Study. JMIR Res Protoc. 2018 May 24;7(5)

- Wang W1,2, Zhou Y2, Tong HS1, Su L1, Zhao L3. Value of the cuff leak test is limited. Crit Care. 2015 Dec 24;19:446.
- Mikaeili H, Yazdchi M, Tarzamni MK, Ansarin K, Ghasemzadeh M. Laryngeal Ultrasonography Versus Cuff Leak Test in Predicting Postextubation Stridor. J Cardiovasc Thorac Res. 2014;6(1):25-8.

- Zhou T, Zhang HP, Chen WW, Xiong ZY, Fan T, Fu JJ, Wang L, Wang G. Cuff-leak test for predicting postextubation airway complications: a systematic review. J Evid Based Med. 2011 Nov;4(4):242-54

- Hristovska AM, Duch P, Allingstrup M, Afshari A. The comparative efficacy and safety of sugammadex and neostigmine in reversing neuromuscular blockade in adults. A Cochrane systematic review with meta-analysis and trial sequential analysis. Anaesthesia. 2018 May;73(5):631-641.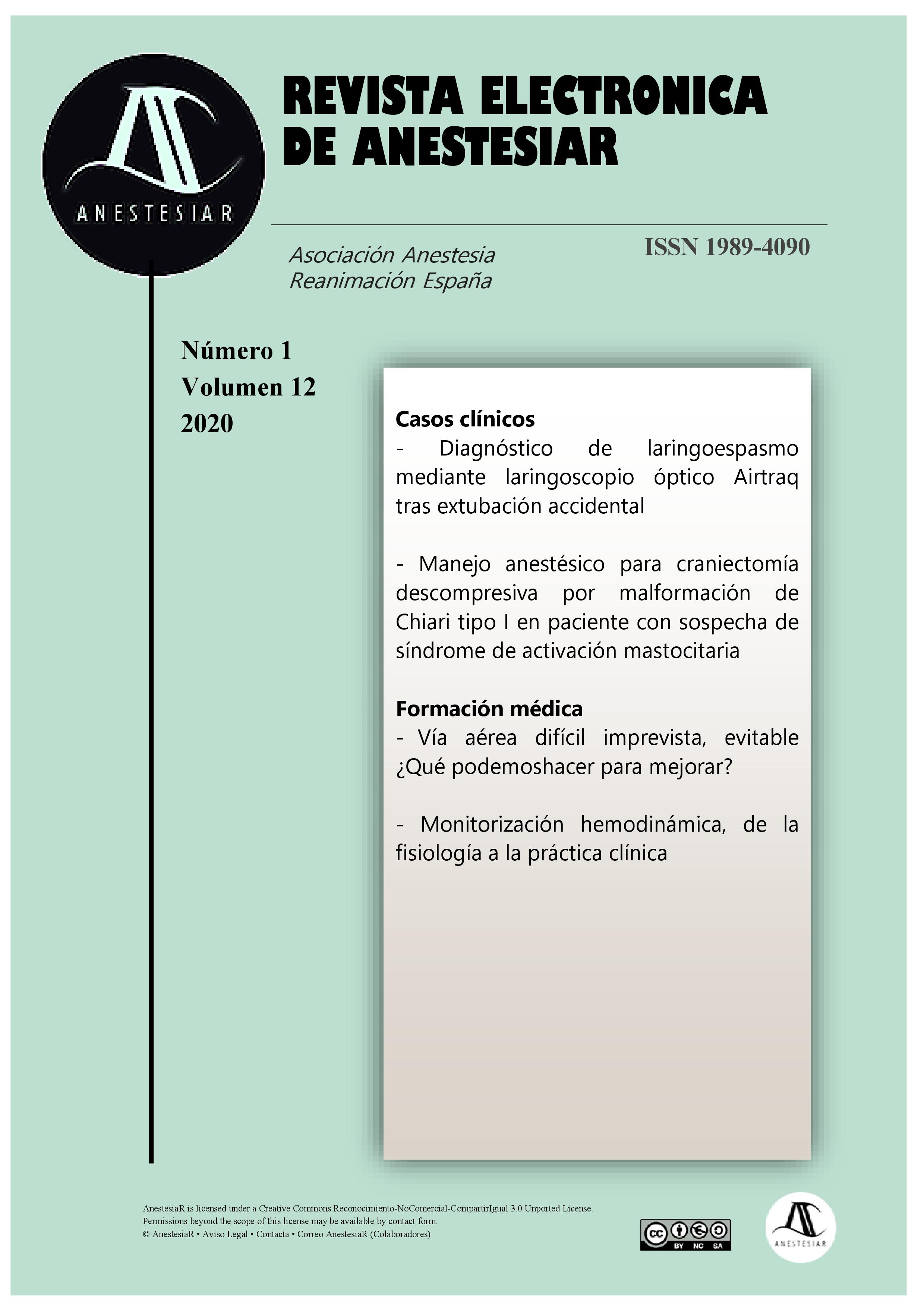 Cómo citar
Napal Ongay, G., Castañeda Pascual, M., Ansó Navarro, M., & Polo Gil, M. (2020). Diagnóstico de laringoespasmo mediante laringoscopio óptico Airtraq tras extubación accidental. Revista Electrónica AnestesiaR, 12(1), 1. https://doi.org/https://doi.org/10.30445/rear.v12i1.811
Esta obra está bajo licencia internacional
Creative Commons Reconocimiento-CompartirIgual 4.0
.