Guía de manejo de la vía aérea en el paciente crítico adulto.
Palabras clave:
vía aérea difícil, cuidados intensivos, intubación traqueal, emergencia médica, guías clínicas, anestesia
Resumen
Se trata de una guía de práctica clínica de la Difficult Airway Society (DAS) británica que expone una estrategia para optimizar el manejo de la VA durante la intubación orotraqueal en el paciente crítico adulto, en cualquier localización hospitalaria.
Citas
- Cook TM, Woodall N, Frerk C; Fourth National Audit Project. Major complications of airway management in the UK: results of the Fourth National Audit Project of the Royal College of Anaesthetists and the Difficult Airway Society. Part 1: anaesthesia. Br J Anaesth. 2011;106(5):617-31.

- Jaber S, Jung B, Corne P, Sebbane M, Muller L, Chanques G, Verzilli D, Jonquet O, Eledjam JJ, Lefrant JY. An intervention to decrease complications related to endotracheal intubation in the intensive care unit: a prospective, multiple-center study. Intensive Care Med. 2010;36(2):248-55.

- Chrimes N. The Vortex: a universal 'high-acuity implementation tool' for emergency airway management. Br J Anaesth. 2016;117 Suppl 1:i20-i27.

- Walz JM, Zayaruzny M, Heard SO. Airway management in critical illness. Chest. 2007;131(2):608-20.

- Myatra SN, Ahmed SM, Kundra P, Garg R, Ramkumar V, Patwa A, Shah A, Raveendra US, Shetty SR, Doctor JR, Pawar DK, Ramesh S, Das S, Divatia JV. Republication: All India Difficult Airway Association 2016 Guidelines for Tracheal Intubation in the Intensive Care Unit. Indian J Crit Care Med. 2017;21(3):146-153.

- Janz DR, Semler MW, Joffe AM, Casey JD, Lentz RJ, deBoisblanc BP, Khan YA, Santanilla JI, Bentov I, Rice TW; Check-UP Investigators*; Pragmatic Critical Care Research Group. A Multicenter Randomized Trial of a Checklist for Endotracheal Intubation of Critically Ill Adults. Chest. 2018;153(4):816-824.

- Lewis SR, Butler AR, Parker J, Cook TM, Schofield-Robinson OJ, Smith AF. Videolaryngoscopy versus direct laryngoscopy for adult patients requiring tracheal intubation: a Cochrane Systematic Review. Br J Anaesth. 2017;119(3):369-383.

- Jiang J, Ma D, Li B, Yue Y, Xue F. Video laryngoscopy does not improve the intubation outcomes in emergency and critical patients - a systematic review and meta-analysis of randomized controlled trials. Crit Care. 2017;21(1):288.

- Lundstrøm LH, Duez CHV, Nørskov AK, Rosenstock CV, Thomsen JL, Møller AM, Strande S, Wetterslev J. Effects of avoidance or use of neuromuscular blocking agents on outcomes in tracheal intubation: a Cochrane systematic review. Br J Anaesth. 2018;120(6):1381-1393.

- Frerk C, Mitchell VS, McNarry AF, Mendonca C, Bhagrath R, Patel A, O'Sullivan EP, Woodall NM, Ahmad I; Difficult Airway Society intubation guidelines working group. Difficult Airway Society 2015 guidelines for management of unanticipated difficult intubation in adults. Br J Anaesth. 2015;115(6):827-48.

- Soar J, Nolan JP, Bíttiger BW, Perkins GD, Lott C, Carli P, Pellis T, Sandroni C, Skrifvars MB, Smith GB, Sunde K, Deakin CD; Adult advanced life support section Collaborators. European Resuscitation Council Guidelines for Resuscitation 2015: Section 3. Adult advanced life support. Resuscitation. 2015;95:100-47.

- Natt BS, Malo J, Hypes CD, Sakles JC, Mosier JM. Strategies to improve first attempt success at intubation in critically ill patients. Br J Anaesth. 2016;117 Suppl 1:i60-i68.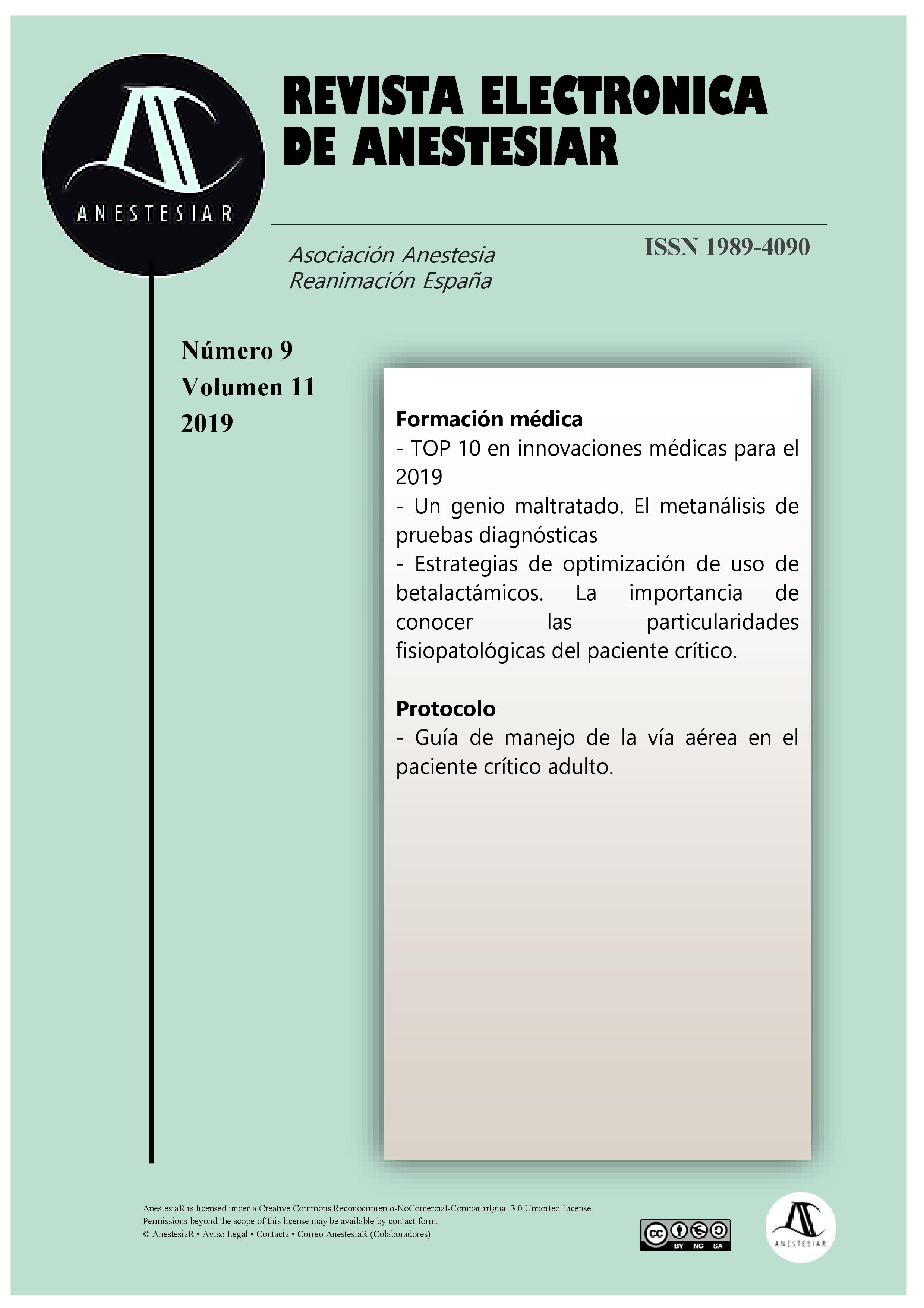 Descargas
Cómo citar
Monsalve Naharro, J. Ángel, Canales Lara, P. M., Catalá Ripoll, J. V., & Moreno Flores, B. (2020). Guía de manejo de la vía aérea en el paciente crítico adulto. Revista Electrónica AnestesiaR, 11(9), 4. https://doi.org/10.30445/rear.v11i9.788
Sección
Procedimientos clínicos
Licencia
Derechos de autor 2019 Revista Electrónica AnestesiaR
Esta obra está bajo una licencia internacional Creative Commons Atribución-CompartirIgual 4.0.