Uso del ECG endocavitario en la canalización de vías centrales
Luis Clemente Armendariz

FEA anestesia y reanimación. Complejo Hospitalario de Navarra

Ana Casimiro Erviti

FEA anestesia y reanimación. Complejo Hospitalario de Navarra

Mikel Batllori Gastón

FEA anestesia y reanimación. Complejo Hospitalario de Navarra
Palabras clave:
anestesia, endocavitario, catéter, Anesthesia, Intracavitary, Catheter
Resumen
La canalización de vías centrales supone, hoy en día, una práctica habitual en el ámbito de la Anestesiología. Mediante este artículo queremos presentar el uso del ECG endocavitario como método alternativo para guiar la adecuada colocación del catéter. Se trata de una técnica útil, inocua y fácil de llevar a cabo. Acompañamos el texto de un vídeo explicativo para facilitar la comprensión de la técnica.
ABSTRACT
Intracavitary ECG practice in the insertion of central venous
The insertion of central venous catheters is, nowadays, a common practice in the field of Anesthesiology. Through this article we present the use of intracavitary ECG guidance as an alternative method to guide the proper placement of the catheter. It is a useful technique, innocuous and easy to carry out. We accompany the text of an explanatory video to facilitate the understanding of the technique.
Citas
- Pittiruti M, la Greca A and Scoppettuolo G. The electrocardiographic method for positioning the tip of central venous catheters. J Vasc Access 2011; 12(4): 280–291.

- Electrocardiographic-guided tip positioning technique for peripherally inserted central catheters in a Dutch teaching hospital: Feasibility and cost-effectiveness análisis in a prospective cohort study. Bloemen A, Daniels AM, Samyn MG, Janssen RJ, Elshof JW. J Vasc Access. 2018 Mar 1:1129729818764051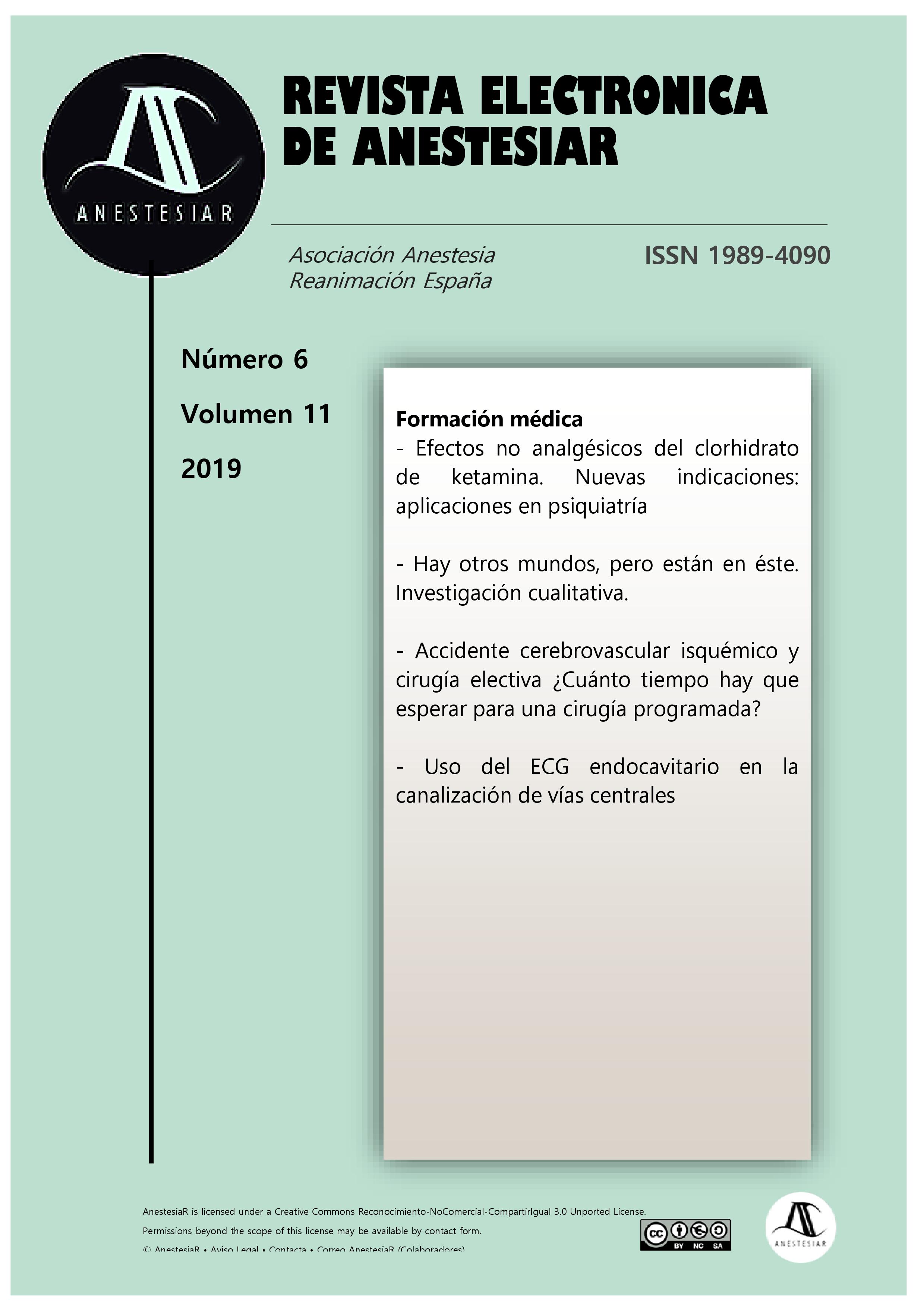 Cómo citar
Clemente Armendariz, L., Casimiro Erviti, A., & Batllori Gastón, M. (2019). Uso del ECG endocavitario en la canalización de vías centrales. Revista Electrónica AnestesiaR, 11(6), 4. https://doi.org/https://doi.org/10.30445/rear.v11i6.771
Esta obra está bajo licencia internacional
Creative Commons Reconocimiento-CompartirIgual 4.0
.