Drenaje del hematoma subdural crónico mediante agujeros de trépano
¿ Anestesia local o general?
Helena Benito Naverac

FEA de Anestesiología y Reanimación. Hospital Clínico Universitario Lozano Blesa de Zaragoza.
Palabras clave:
hematoma, trépano, trepanación, anestesia local, anestesia general, sedación, trephine, trephination, local anesthesia, general anesthesia, sedation
Resumen
En numerosas ocasiones el drenaje del hematoma subdural crónico se realiza mediante agujeros de trépano. Esta intervención es susceptible de ser realizada bajo anestesia local y sedación. En este artículo se responde a varias cuestiones que se plantean los anestesiólogos de guardia.
ABSTRACT
Several times draining the chronic subdural hematoma is made by burr holes. This procedure is more likely to be approached under local anesthesia and sedation.  In this article several questions posted by  anesthesiologists on call are answered. 
Citas
- Yad R. Yadav, Vijay Parihar, Hemant Namdev, Jitin Bajaj. Chronic subdural hematoma.
Asian Journal of Neurosurgery 330 Vol. 11, Issue 4, October‑December 2016
- Vinod Bishnoi, MD,* Bhupesh Kumar, MD, DM,* Hemant Bhagat, MD, DM,* Pravin Salunke, MS, MCH,w and Sonika Bishnoi, DAz. Comparison of Dexmedetomidine Versus Midazolam-Fentanyl Combination for Monitored Anesthesia Care During Burr-Hole Surgery for Chronic Subdural Hematoma. J Neurosurg Anesthesiol. Volume 28, Number 2, April 2016.
- http://revista.sedolor.es/pdf/2001_09_05.pdf
- Ratilal BO, Pappamikail L, Costa J, Sampaio C. Anticonvulsants for preventing seizures in patients with chronic subdural haematoma. Cochrane Database of Systematic Reviews 2013, Issue 6. Art. No.: CD004893. DOI: 10.1002/14651858.CD004893.pub3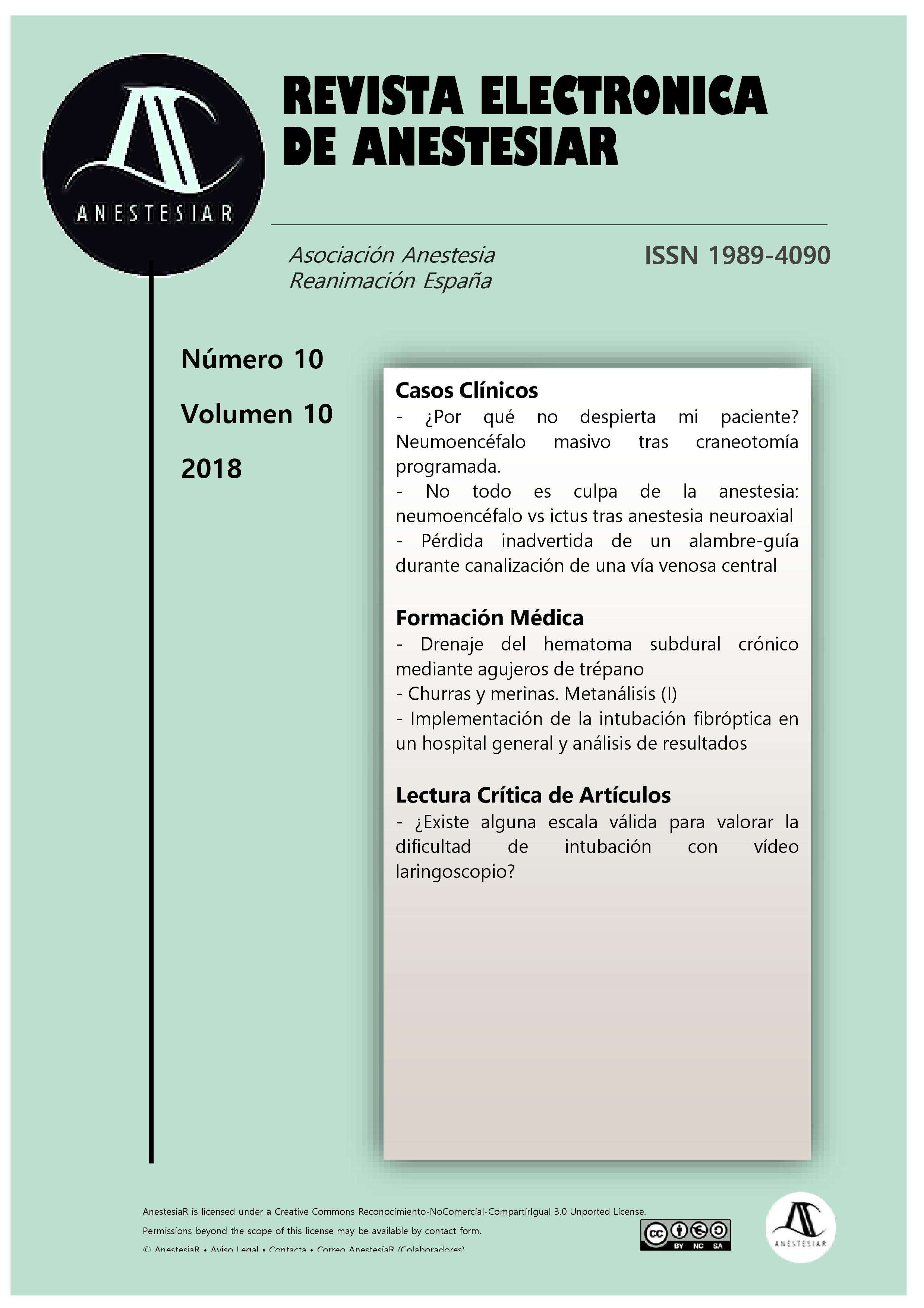 Cómo citar
Benito Naverac, H. (2018). Drenaje del hematoma subdural crónico mediante agujeros de trépano. Revista Electrónica AnestesiaR, 10(10), 4. https://doi.org/https://doi.org/10.30445/rear.v10i10.654
Esta obra está bajo licencia internacional
Creative Commons Reconocimiento-CompartirIgual 4.0
.