Manejo postoperatorio de la hepatectomía mayor
Palabras clave:
hepatectomia, hepatic resection, management, Postoperative, resección hepática
Resumen
La resección hepática se ha convertido en el pilar del tratamiento de las neoplasias malignas. Los resultados después de la resección han mejorado significativamente con los avances de las técnicas quirúrgicas, anestésicas y cuidados perioperatorios.
El hígado se compone de 2 lóbulos anatómicos de diferente tamaño, derecho e izquierdo, separados por la cisura hepática mayor. Cada lóbulo está formado por segmentos que constituyen unidades independientes en cuanto a vascularización y a drenaje biliar. El lóbulo derecho integra del IV al VIII segmento. Y el izquierdo del I a III segmento.
El hígado recibe sangre arterial y venosa. La arteria hepática provee un 30% del flujo sanguíneo hepático. El resto proviene de la porta. Los vasos hepáticos, la vía biliar y los nervios del sistema autónomo forman el pedículo hepático. Según la nomenclatura internacional, una hepatectomía mayor es cualquier resección de al menos 3 segmentos.
Citas
1.- Belgheti J Seven hundred forty-seven hepatectomies in the 1990s: an update to evaluate the actual risk of liver resection. J Am Coll Surg 2000; 191:38-46.
2.- Shigeta H Bacteremia after hepateetomy: an analysis of a single center, 10-year experience with 407 patients. Langenbecks Arch Surg 2002; 387:(l) 17-24.
3.- Mullin EJ How much liver resection is too much? Am J Surg 2005; 190:87-97.
4.- Pugh RN. Transection of the oesophagus for bleeding oesophageal varices. Br J Surg 1973; 60:646-49.
5.- Schindl MJ. The value of residual liver volume as a predictor of hepatic dysfunction and infection after major liver resection. Gut 2005; 54 (2):289-96.
6.- Schneider PD. Preoperative assessment of liver function. Surg Clin North Am 2004; 84 (2):355-73.
7.- Vauthey JN. Standardized measurement of the future liver remnant prior to extended liver resection: methodology and clinical associations. Surgery 2000; 127: 512-519.
8.- Bruix J. Surgical resection of hepatocellular carcinoma in cirrhotic patients: prognostic value of preoperative portal pressure. Gastroenterology 1996; 111 (10) 1018-22.
9.- Bruix J. Practice Guidelines Committee, American Association for the Study of Liver Diseases. Hepatology 2005; 42 (5):1208-36.
10.- Horigome H. Treatment of solitary small hepatocellular carcinoma: consideration of hepatic functional reserve and mode of recurrence. Hepatogastroenterology 2000; 47:507-11.
11.- Capussotti L. Liver resection for large-size hepatocellular carcinomas in 47 non-cirrhotic patients-no mortality long-term survival. Hepatogastroenterology 2006; 53:768-72.
12.- Pisani AC. Surgery in the cirrhotic patient. Prognosis and risk factors. Minerva Chir 2000; 55 (11):771-8.
13.- Cescon M. Indication of the extent of hepatectomy for hepatocellular carcinoma on cirrhosis by a simple algorithm based on preoperative variables. Arch Surg 2009; 144 (1):57-63.
14.- Teh SH. Model for End-stage Liver Disease score fails to predict perioperative outcome after hepatic resection for hepatocellular carcinoma in patients without cirrhosis. Am J Surg 2008; 195 (5):697-701.
15.- Watanabe I. Hyperlactemia can predict the prognosis of liver resection. Shock. 2007; 28:35-38.
16.- Geerse DA. Treatment of hypophosphatemia in the intensive care unit: a review. Crit Care. 2010; 14:R147.
17.- Datta HK. Hepatic surgery-related hypophosphatemia. Clin Chim Acta. 2007; 380:13-23.
18.- Bezeaud A. Hypercoagulability after partial liver resection. Thromb Haemost. 2007; 98:1252-1256.
19.- Hotta T. Evaluation of postoperative nutritional state after hepatectomy for hepatocellular carcinoma. Hepatogastroenterology. 2003; 50:1511-1516.
20.- Richter B. Nutritional support after open liver resection: a systematic review. Dig Surg. 2006; 23:139-145.
21.- Ciuni R. Nutritional aspects in patient undergoing liver resection. Updates Surg. 2011; 63:249-252.
22.- Wrighton LJ. Postoperative management after hepatic resection. J Gastrointest Oncol. 2012 March; 3 (1): 41–47.
23.- Jarnagin WR. Improvement in Perioperative outcome after Hepatic resection. Ann Surg 2002;236 (4):397-407.
24.- Garwood RA. Infectious Complications After Hepatic Resection. The American Surgeon 2004; 70:787-92.
25.- Imamura H. One thousand fifty-six hepatectomies without mortality in 8 years. Arch Surg 2003; 138:1198-206.
26.- García C. Bilirragia y fístula biliar posthepatectomía. Rev. Chilena de Cirugía 2005; 57 (1):45-51.
27.- Dilly MP. Anestesia y cuidados intensivos en cirugía hepática y portal. Enciclopedia Medico-Quirúrgica E-36-562-A-10.
28.- Wrighton LJ. Postoperative management after hepatic resection. J Gastrointest Oncol. 2012 Mar; 3 (1):41-7.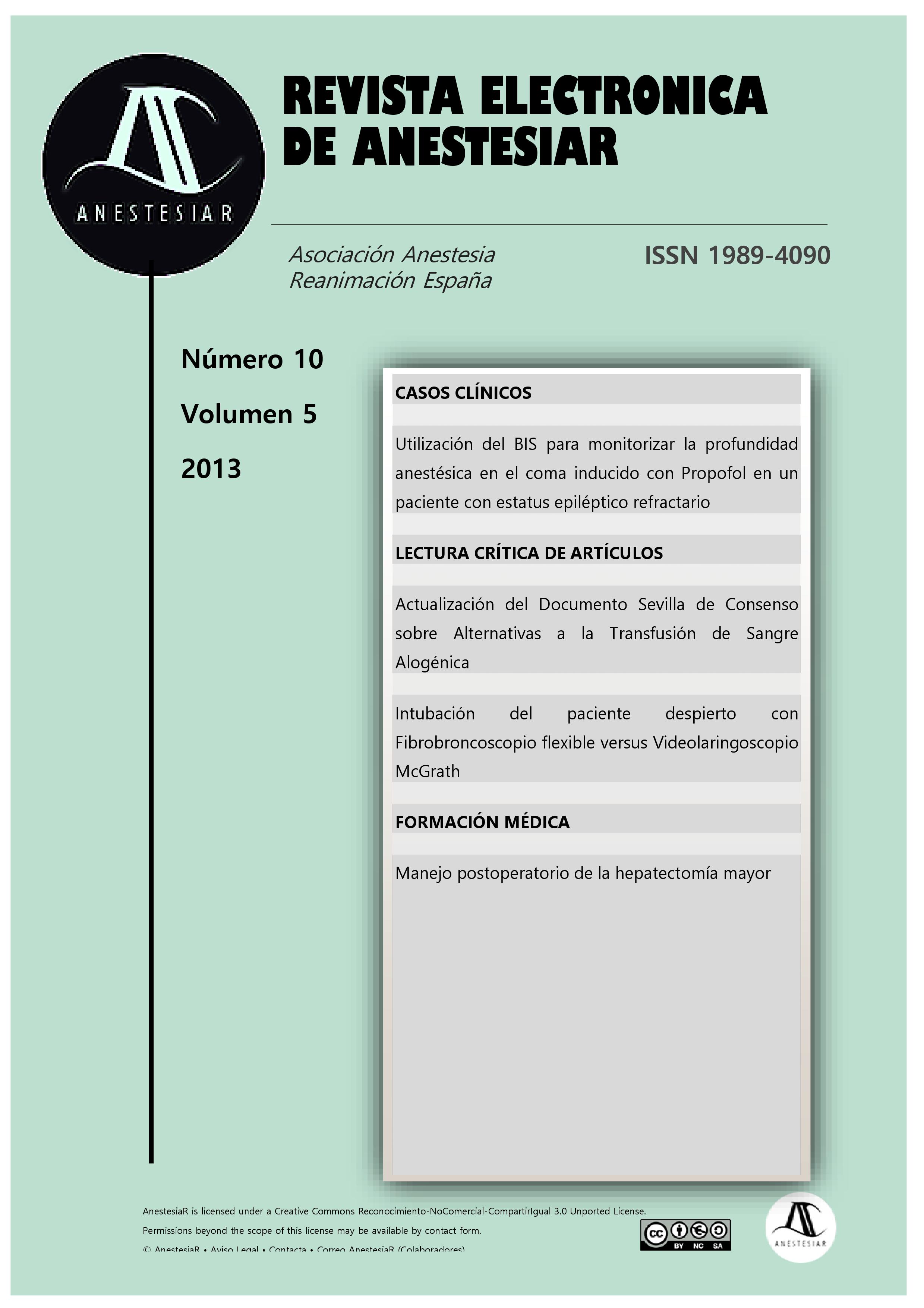 Cómo citar
Fernández González, I. (2013). Manejo postoperatorio de la hepatectomía mayor. Revista Electrónica AnestesiaR, 5(10), 3. https://doi.org/10.30445/rear.v5i10.329
Sección
Artículos de revisión