Anestesia Total Intravenosa vs Anestesia Inhalatoria en cirugía oncológica.
Palabras clave:
TIVA-TCI propofol , Supervivencia, Cirugía oncológica, Anestesia inhalatoria
Resumen
Nunca antes el cáncer ha sido tan insidioso y prevalente como en la actualidad. Los agentes anestésicos han mostrado diferentes efectos sobre el crecimiento y la metástasis de las células cancerosas, hecho que puede tener un impacto en términos de supervivencia.
En los últimos años se han realizado diferentes estudios para encontrar la combinación óptima entre el agente anestésico y la técnica.
Los datos sobre el propofol TIVA-TCI frente a los agentes inhalatorios sobre el cáncer son enormes. El propofol ha mostrado importantes beneficios: propiedades antitumorales y antiinflamatorias, menos náuseas y vómitos, recuperación posquirúrgica más rápida y menos contaminación ambiental. Sin embargo, los efectos sobre los resultados a largo plazo en comparación con los agentes halogenados no son evidentes. La mayoría de los estudios realizados en humanos son retrospectivos y hay una falta de estandarización en la mayoría de ellos. Se necesitan más investigaciones para obtener datos confiables que puedan inclinar la balanza hacia uno u otro tipo de anestesia durante la cirugía oncológica.
Para concluir, necesitamos encontrar la técnica más beneficiosa en este campo, para cada tipo de cirugía. De ahí que deberíamos seguir investigando porque toda la población se beneficiaría significativamente.
Citas
Irwin MG, Chung CKE, Ip KY WM. Influence of propofol-based total intravenous anaesthesia on peri-operative outcome measures: a narrative review. Anaesthesia. 2020;75(suppl. 1):e90– 100.
Buckley A, McQuaid S, Johnson P BD. Effect of anaesthesic technique on the natural killer cell anti-tumour activity of serum from women undergoing breast cancer surgery: a pilot study. Br J Anaesth. 2014;113:1:56.
Lee JH, Kang SH, Kim Y, Kim HA, Kim BS. Effects of propofol-based total intravenous anesthesia on recurrence and overall survival in patients after modified radical mastectomy: A retrospective study. Korean J Anesthesiol. 2016;69(2):126–32.
Miller D, Lewis SR, Pritchard MW, Schofield-Robinson OJ, Shelton CL, Alderson P et al. Intravenous versus inhalational maintenance of anaesthesia for postoperative cognitive outcomes in elderly people undergoing non-cardiac surgery (Review). Cochrane Database Syst Rev. 2018; Art. No.(8).
Jaura AI, Flood G, Gallagher HC BD. Differential effects of serum from patients administered distinct anaesthetic techniques on apoptosis in breast cancer cells in vitro: a pilot study. Br J Anaesth. 2014;113 Suppl:1-63.
Soltanizadeh S, Degett TH, Gögenur I. Outcomes of cancer surgery after inhalational and intravenous anesthesia: A systematic review. J Clin Anesth. 2017;42:19-25.
Sessler DI, Pei L, Huang Y, Fleischmann E, Marhofer P, Kurz A, et al. Recurrence of breast cancer after regional or general anaesthesia: a randomised controlled trial. Lancet. 2019;394(10211):1807–15.
Kanako Makito, Hiroki Matsui, Kiyohide Fushimi, Hideo Yasunaga; Volatileversus Total Intravenous Anesthesia for Cancer Prognosis in Patients Having Digestive Cancer Surgery: A Nationwide Retrospective Cohort Study. Anesthesiology 2020; 133:764–773.
Forget P, Collet V, Lavand'homme P, De Kock M. Does analgesia and condition influence immunity after surgery? Effects of fentanyl, ketamine and clonidine on natural killer activity at different ages. Eur J Anaesthesiol. 2010;27:233.
Chamaraux-Tran TN, Mathelin C, Aprahamian M et al. Antitumor Effects of Lidocaine on Human Breast Cancer Cells: An In Vitro and In Vivo Experimental Trial. Anticancer Res. 2018;38–95.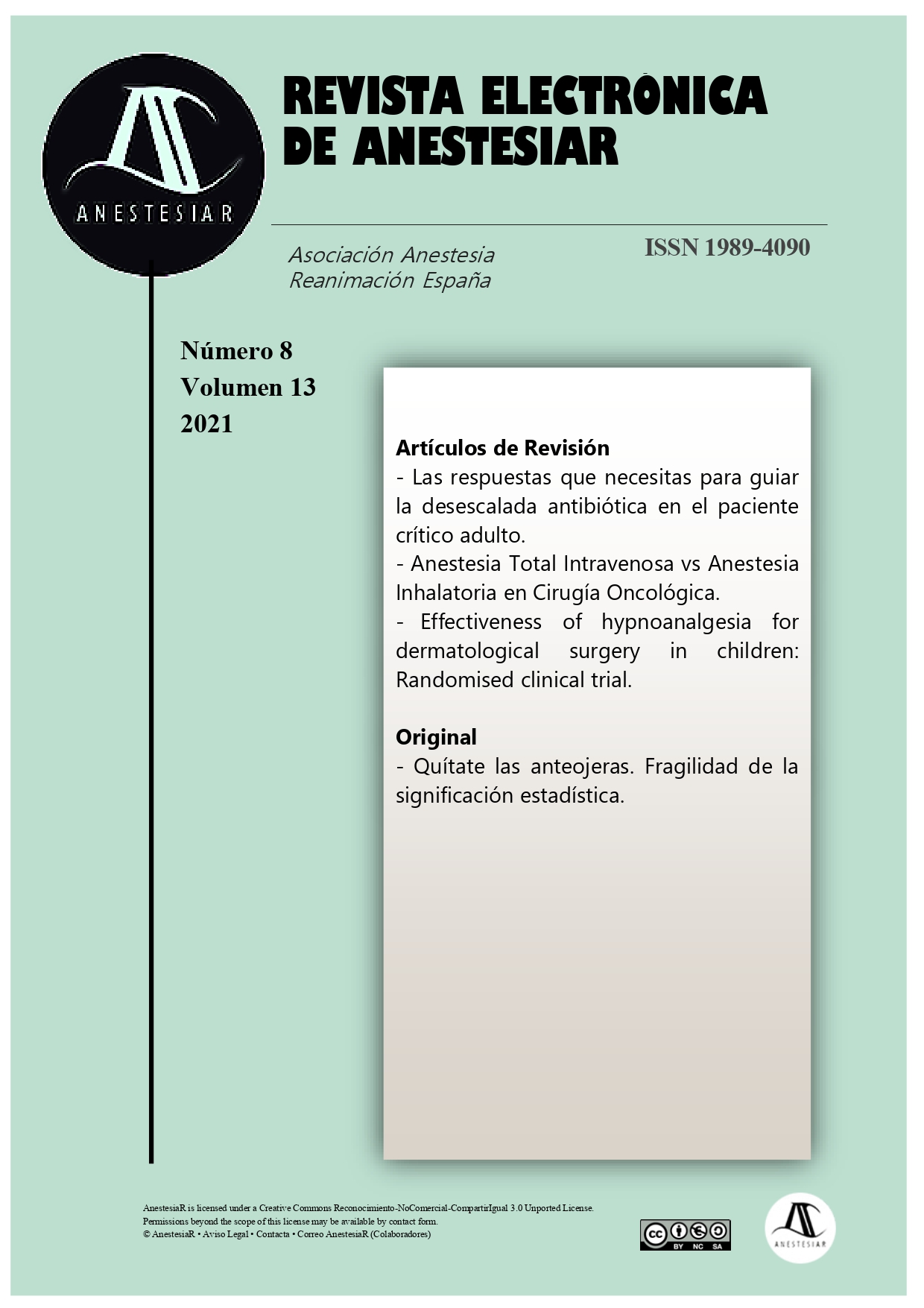 Descargas
Cómo citar
Pons Pellicé, L., & Villaverde Castillo, I. . (2021). Anestesia Total Intravenosa vs Anestesia Inhalatoria en cirugía oncológica . Revista Electrónica AnestesiaR, 13(8). https://doi.org/10.30445/rear.v13i8.967
Sección
Artículos de revisión
Licencia
Derechos de autor 2021 Revista Electrónica AnestesiaR
Esta obra está bajo una licencia internacional Creative Commons Atribución-CompartirIgual 4.0.