Inducción en secuencia rápida (ISR) ante COVID-19
Palabras clave:
COVID-19, inducción en secuencia rápida, presión cricoidea, laringoscopía, oxigenación, succinilcolina, rocuronio
Resumen
En la presente pandemia de COVID-19, la inducción y la intubación en secuencia rápida tienen un protagonismo que solo existía en los departamentos de emergencia y a los que estaban acostumbrados los anestesiólogos en las guardias. La succinilcolina se usa nuevamente en países de bajos y medianos ingresos. Existen varias diferencias entre la técnica ISR clásica y la modificada, y se analizan diferentes aspectos que la hacen preferible en el actual contexto epidemiológico.
Citas
- Mendelson CL. The aspiration of stomach contents into the lungs during obstetric anesthesia. Am J Obstet Gynecol. 1946; 52:191-205.

- Stept WJ, Safar P. Rapid induction/intubation for prevention of gastric-content aspiration. Anesth Analg. 1970; 49(4):633-6.

- Salem MR, Khorasani A, Zeidan A, Crystal GJ. Cricoid pressure contro-versies: narrative review. Anesthesiology. 2017;126(4):738‐752.

- Zdravkovic M, Berger-Estilita J, Sorbello M, Hagberg CA. An international survey about rapid sequence intubation of 10,003 anaesthetists and 16 airway experts. Anaesthesia. 2020;75(3):313‐322.

- Pandit JJ, Andrade J, Bogod DG, et al. The 5th National Audit Project (NAP5) on accidental awareness during general anaesthesia: summary of main findings and risk factors. Anaesthesia. 2014;69(10):1089‐1101.

- Nimmagadda U, Salem MR, Crystal GJ. Preoxygenation: Physiologic Ba-sis, Benefits, and Potential Risks. Anesth Analg. 2017;124(2):507‐517.

- Lyons C, Callaghan M. Uses and mechanisms of apnoeic oxygenation: a narrative review. Anaesthesia. 2019;74(4):497‐507.

- Sajayan A, Wicker J, Ungureanu N, Mendonca C, Kimani PK. Current practice of rapid sequence induction of anaesthesia in the UK - a nation-al survey. Br J Anaesth. 2016;117 Suppl 1:i69‐i74.

- Groth CM, Acquisto NM, Khadem T. Current practices and safety of medi-cation use during rapid sequence intubation. J Crit Care. 2018;45:65‐70.

- Tran DTT, Newton EK, Mount VAH, Lee JS, Wells GA, Perry JJ. Rocu-ronium versus succinylcholine for rapid sequence induction intubation. Cochrane Database of Systematic Reviews 2015, Issue 10. Art. No.: CD002788.

- Fawcett WJ. Suxamethonium or rocuronium for rapid sequence induction of anaesthesia?. BJA Education 2019; 19(12): 380-2.

- Zuo M, Huang Y, Ma W, Xue Z, Zhang J, Gong Y, Che L, Chinese Socie-ty of Anesthesiology Task Force on Airway Management. Expert recom-mendations for tracheal intubation in critically ill patients with noval coro-navirus disease 2019. Chinese Medical Sciences Journal ISSN 1001-9294; CN 11-2752/R Published online 2020/2/27. doi:10.24920/003724.

- Sorbello M, El-Boghdadly K, Di Giacinto I, Cataldo R, Esposito C, Falcetta S, Merli G, Cortese G, Corso RM, Bressan F, Pintaudi S, Greif R, Donati A, Petrini F and On behalf of The Società Italiana di Anestesia Analgesia Rianimazione e Terapia Intensiva (SIAARTI) Airway Research Group, and The European Airway Management Society. The Italian coronavirus disease 2019 outbreak: recommendations from clinical practice. Anaes-thesia. 2020; 75:724-32.

- Cook TM, El-Boghdadly K, McGuire B, McNarry AF, Patel A, Higgs A. Consensus guidelines for managing the airway in patients with COVID-19. Anaesthesia. 2020; 75:785-99.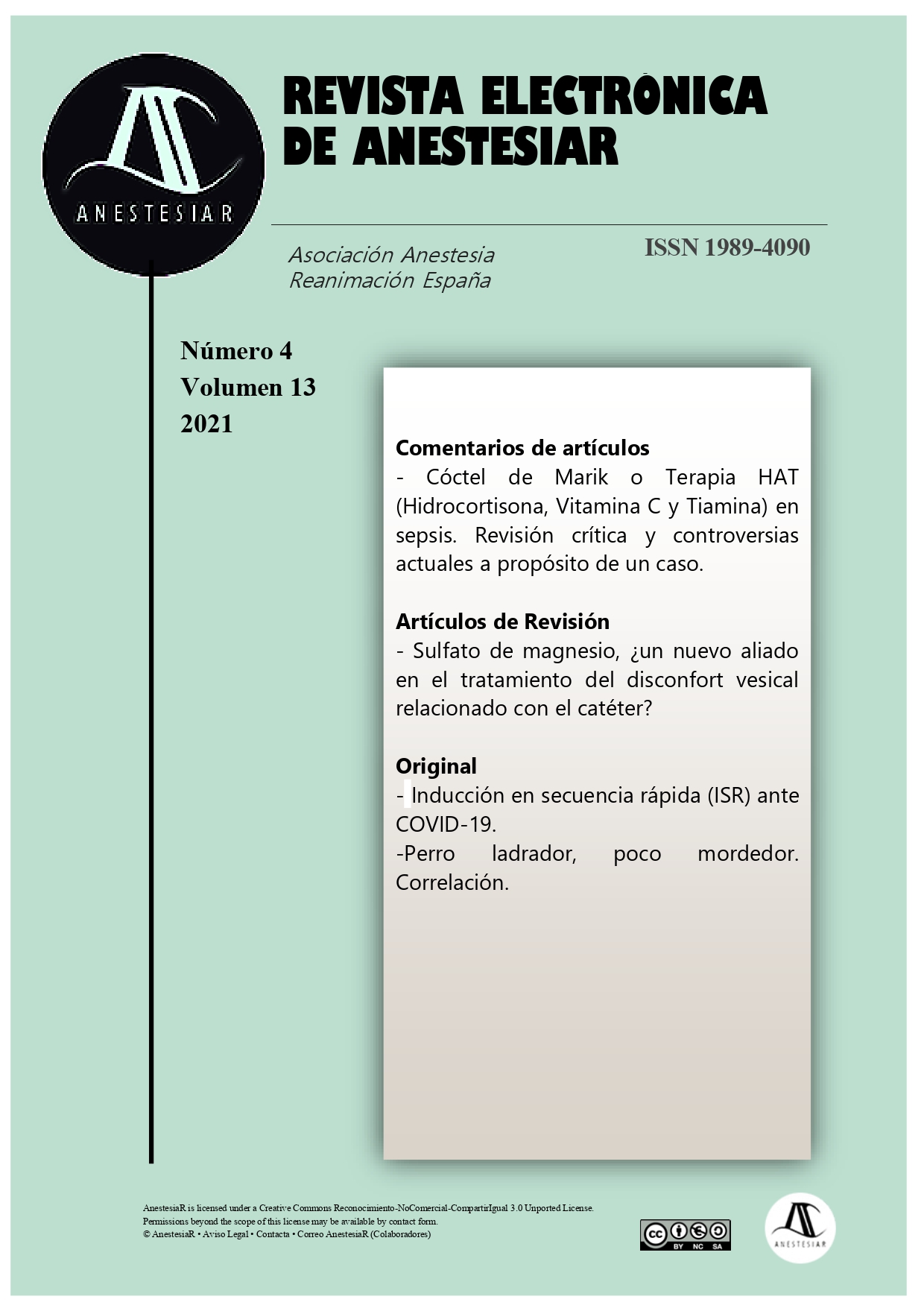 Descargas
Cómo citar
Allori, R. D. O., Isod, C., & Navarro, G. (2021). Inducción en secuencia rápida (ISR) ante COVID-19. Revista Electrónica AnestesiaR, 13(4). https://doi.org/10.30445/rear.v13i4.914
Licencia
Derechos de autor 2021 Revista Electrónica AnestesiaR
Esta obra está bajo una licencia internacional Creative Commons Atribución-CompartirIgual 4.0.