SuperNO2VA en pacientes críticos con COVID-19: Una alternativa para el soporte respiratorio no invasivo
Palabras clave:
pandemia, coronavirus, COVID-19, neumonía, insuficiencia respiratoria, soporte respiratorio no invasivo, CPAP, SuperNO2VA
Resumen
La enfermedad por coronavirus 2019 ( COVID-19) se conoció a finales del 2019, inicialmente  en la provincia China de Wuhan, pero se extendió de manera rápida a lo largo del mundo y  en Febrero de 2020 ya estaba presente en  varios países de todos los continentes; a mediados de Marzo  la Organización Mundial de La salud ( OMS) la declaró oficialmente como pandemia. El espectro clínico abarca desde cuadros asintomáticos o con sintomatología leve hasta situaciones graves potencialmente mortales debido sobre todo a insuficiencia respiratoria aguda hipoxémica , sepsis o fracaso multiorgánico. La mayoría de pacientes graves que ingresan en la Unidad de Cuidados Críticos (UCI) requiere soporte respiratorio invasivo, no invasivo o la combinación de ambos. 
La gran avalancha de pacientes que ingresaron en los hospitales de Madrid en un periodo muy corto de tiempo condicionó una presión asistencial sin precedentes en el sistema sanitario y  precisó de una reorganización estructural y funcional a todos los niveles; esta gran exigencia hizo que por momentos la disponibilidad de algunos recursos  resultara claramente insuficiente y fue necesario improvisar mecanismos de ayuda y soporte así como diversificar estructuras y medios incluso en sitios poco habituales; la creación de equipos de trabajo y el  equipamiento  de camas de UCI fue una las mayores necesidades; en este escenario la labor del servicio de Anestesiología y Reanimación resultó fundamental dada su capacidad de adaptación y la destreza probada  en el soporte y manejo del paciente crítico. El soporte respiratorio no invasivo (SRNI)  es una estrategia clave  para el manejo del paciente con insuficiencia respiratoria aguda grave, tanto dentro como fuera de la UCI; es cierto que al principio de la pandemia  su uso no fue muy extendido, primero por el  temor al fallo de la técnica y segundo y más importante por el temor fundado del personal sanitario al contagio por la dispersión de aerosoles; finalmente se ha reconocido su eficacia si se aplica con la indicación adecuada,  en el momento correcto y en las instalaciones apropiadas. La mascarilla SuperNO2VA es un dispositivo poco conocido hasta ahora y que en situaciones como la que enfrentamos puede resultar de gran utilidad en casos concretos. 
En  este artículo pretendemos describir las características clave de la neumonía por COVID-19  y el papel que juegan los sistemas de SRNI en su manejo, en concreto la mascarilla de PAP SuperNO2VA, describimos algunos casos de su uso en diversos escenarios. 
Citas
- Centers for Disease Control and Prevention. 2019 Novel coronavirus, Wuhan, China. Information for Healthcare Professionals. https://www.cdc.gov/coronavirus/2019-nCoV/hcp/index.html (Accessed on February 14, 2020).

- World Health Organization. Novel Coronavirus (2019-nCoV) technical guidance. https://www.who.int/emergencies/diseases/novel-coronavirus-2019/technical-guidance (Accessed on February 14, 2020).

- Ministerio de Sanidad. Manejo clínico de pacientes con enfermedad por el nuevo coronavirus (COVID-1.https://www.mscbs.gob.es/profesionales/saludPublica/ccayes/alertasActual/nCov-China/documentos Protocolo_manejo_clinico_COVID-19.pd.

- Mosites E, Parker EM, Clarke KEN, et al. Assessment of SARS-CoV-2 Infection Prevalence in Homeless Shelters - Four U.S. Cities, March 27-April 15, 2020. MMWR Morb Mortal Wkly Rep 2020; 69:521.

- European Centre for Disease Prevention and Control. Infection prevention and control for the care of patients with 2019-nCoV in healthcare settings [Internet]. 2020 feb. Disponible en: Infection prevention and control for the care of patients with 2019-nCoV in healthcare settings.

- Gorbalenya AE, Baker SC, Baric RS, et al. Severe acute respiratory syndrome-related coronavirus: The species and its viruses – a statement of the Coronavirus Study Group. bioRxiv 2020.
https://www.biorxiv.org/content/10.1101/2020.02.07.937862v1 (Accessed on February 12, 2020).
- Zhou F, Yu T, Du R, et al. Clinical course and risk factors for mortality of adult inpatients with COVID-19 in Wuhan, China: a retrospective cohort study. Lancet 2020; 395:1054.

- Ñamendys-Silva SA. Respiratory support for patients with COVID-19 infection. Lancet Respir Med 2020; 8:e18.

- Gattinoni L, Chiumello D, Caironi P, et al. COVID-19 pneumonia: different respiratory treatments for different phenotypes? Intensive Care Med 2020.

- Gattinoni L, Quintel M, Marini JJ. "Less is More" in mechanical ventilation. Intensive Care Med 2020; 46:780.

- Gomez C, Rodríguez P, Et al. Clinical Consensus Recommendations Regarding Non-Invasive Respiratory Support in the Adult Patient with Acute Respiratory Failure Secondary to SARS-CoV-2 infection. Revista Española de Anestesiología y Reanimación , Vol. 67. Núm. 5.páginas 261-270 (Mayo 2020).

- Ding L, Wang L, Ma W, He H. Efficacy and safety of early prone positioning combined with HFNC or NIV in moderate to severe ARDS: a multi-center prospective cohort study. Crit Care 2020; 24:28.

- Leung CCH, Joynt GM, Gomersall CD, et al. Comparison of high-flow nasal cannula versus oxygen face mask for environmental bacterial contamination in critically ill pneumonia patients: a randomized controlled crossover trial. J Hosp Infect 2019; 101:84.

- Hui DS, Chan MT, Chow B. Aerosol dispersion during various respiratory therapies: a risk assessment model of nosocomial infection to health care workers. Hong Kong Med J 2014; 20 Suppl 4:9.

- Cheung JC, Ho LT, Cheng JV, et al. Staff safety during emergency airway management for COVID-19 in Hong Kong. Lancet Respir Med 2020; 8:e19.

- Ficha Técnica SuperNO2VA dispositivo de ventilación nasal PAP. Vyaire Medical.

- Cataldo S, Pedro M, Straker T, Osborn I. The superNO2VA to treat upper airway obstruction and respiratory compromise after major head and neck surgery: a case report. Journal of Head and Neck Anesthesia vol. 3 Nº2; Mayo 2019.

- Bastien A, Pedro M, Cataldo S. Treating oxygen failure in angioedema: a case series employing noninvasive nasal positive pressure with the SuperNO2VA device. Journal of Head and Neck Anesthesia Vol.3 Nº2; Mayo 2019.

- Ghebremichael, Sembar, et al. Evaluation of SuperNO2VA mask technology in a clinical setting: A pilot study. Trends in anesthesia and critical care 2017; 16:64-61.

- Xu, Zeping, Bai, Yiping, Jiang, Yandong, Koffi, Kia. Comparison of a simplified nasal continuous positive airways pressure device with nasal cannula in obese patients undergoing colonoscopy during deep sedation. A randomized clinical trial. European Journal of Anesthesiology 2019; 36:1–8

- Dimou, Francesca, et al. Nasal positive pressure with the SuperNO2VA™ device decreases sedation-related hypoxemia during pre-bariatric surgery EGD. Surgical endoscopy (2019): 1-5.

- Patil SP, Ayappa IA, Caples SM, et al. Treatment of Adult Obstructive Sleep Apnea With Positive Airway Pressure: An American Academy of Sleep Medicine Systematic Review, Meta-Analysis, and GRADE Assessment. J Clin Sleep Med 2019; 15:301.

- Y. Ji, Z. Ma, M.P. Peppelenbosch, Q. Pan.

Potential association between COVID-19 mortality and health-care resource availability.Lancet Glob Health., (2020).
- Scaravilli V, Grasselli G, Castagna L, et al. Prone positioning improves oxygenation in spontaneously breathing nonintubated patients with hypoxemic acute respiratory failure: A retrospective study. J Crit Care 2015; 30:1390.

- Pérez-Nieto OR, Guerrero-Gutiérrez MA, Deloya-Tomas E, Ñamendys-Silva SA. Prone positioning combined with high-flow nasal cannula in severe noninfectious ARDS. Crit Care 2020; 24:114.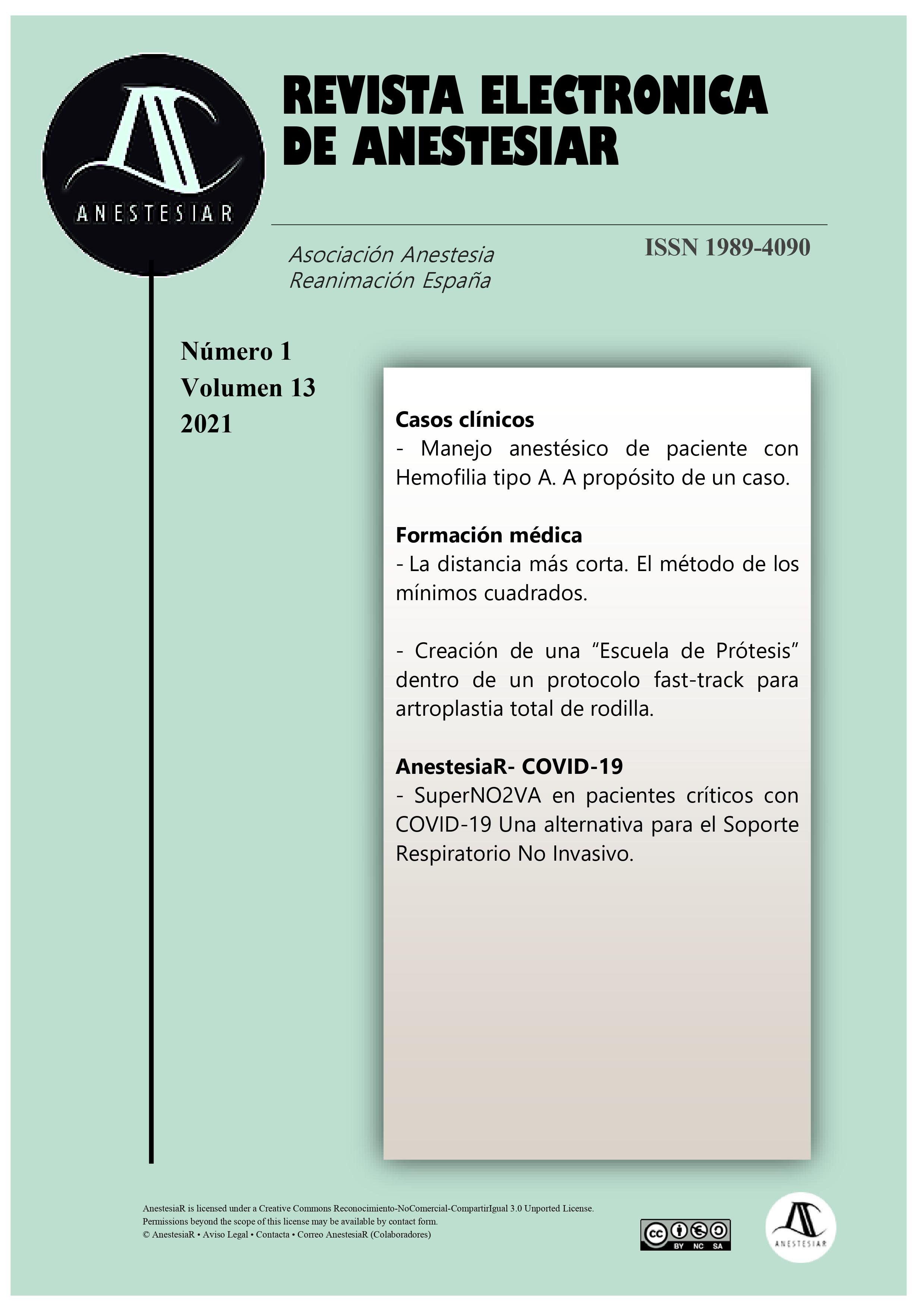 Descargas
Cómo citar
Mira Betancur, R. A., & De Pablo Pajares, A. (2021). SuperNO2VA en pacientes críticos con COVID-19: Una alternativa para el soporte respiratorio no invasivo. Revista Electrónica AnestesiaR, 13(1). https://doi.org/10.30445/rear.v13i1.913
Licencia
Derechos de autor 2021 Revista Electrónica AnestesiaR
Esta obra está bajo una licencia internacional Creative Commons Atribución-CompartirIgual 4.0.