Diabetes insípida perioperatoria secundaria a litio.
Reporte de un caso
Palabras clave:
Litio, Diabetes insípida nefrogénica, Poliuria, Estenosis pilórica, Hipernatremia, Lithium, Nephrogenic diabetes insipidus, Hypernatremia, Polyuria, Pyloric Stenosis
Resumen
La diabetes insípida es una patología caracterizada por la eliminación de volúmenes muy elevados de orina diluida. La hormona antidiurética es la encargada de regular la reabsorción de agua en el túbulo colector.  Podemos diferenciar dos variantes, la neurogénica o central y la nefrogénica o secundaria según el nivel que esté afectado. Varios fármacos han sido relacionados con la pérdida de la capacidad concentradora renal de la orina, siendo el litio uno de ellos. Presentamos el caso de una paciente sometida a intervención quirúrgica por estenosis benigna de píloro en tratamiento farmacológico con litio por trastorno bipolar que durante el periodo intraoperatorio comenzó con diuresis elevada sospechándose diabetes insípida.
ABSTRACT
Lithium-induced Perioperative Diabetes Insipidus–A Case Report
Diabetes insipidus is a pathology characterized by the elimination of large amounts of dilute urine. The antidiuretic hormone is responsible of water reabsorption in medullary collecting duct in the kidney. There are two main types of diabetes insipidus, on one hand the neurogenic or central diabetes insipidus and on the other hand the nephrogenic or secondary diabetes insipidus, depending on the level that is affected. Several drugs have been related to loss of renal concentrating mechanism, being the lithium one of them. We present a case report of a patient undergoing surgery for benign pyloric stenosis in pharmacological long-term maintenance treatment of bipolar disorder with lithium. During the intraoperative period the patient began with high urine output and diabetes insipidus was suspected.
Citas
- Bockenhauer D, Bichet DG. Nephrogenic diabetes insipidus. Curr Opin Pediatr. 2017;29(2):199-205. https://www.doi.org/10.1097/MOP.0000000000000473

- Morello J-P, Bichet DG. Nephrogenic Diabetes Insipidus. Annu Rev Physiol. 2001;63(1):607-30.

- Velásquez-Jones L, Medeiros-Domingo M. Diabetes insípida nefrogénica. Bol Med Hosp Infant Mex. 2014;71(6):332-8. http://dx.doi.org/10.1016/j.bmhimx.2015.01.004

- Shakaroun D, Nasser H, Munie S, Soman S. Nephrogenic diabetes insipidus after esophagectomy in a patient with remote history of lithium treatment: A case report. Int J Surg Case Rep. 2019;57:71-3. http://dx.doi.org/10.1016/j.ijscr.2019.03.006

- Shnaider A, Azab A. Lithium-induced Nephrogenic Diabetes Insipidus–A Case Report and Discussion on the Pathophysiological Mechanism. Int J Nephrol Kidney Fail. 2015;1(3). http://dx.doi. org/10.16966/2380-5498.113

- Castro-Pretelt D, Mauricio J. Diabetes insípida nefrogénica inducida por litio: el papel de las aquoporinas. Salud Uninorte. 2005(20).

- Sugawara M, Hashimoto K, Ota Z. Involvement of prostaglandin E2, cAMP, and vasopressin in lithium-induced polyuria. Am J Physiol. 1988;254(6):R863-R9.

- Stone KA. Lithium-induced nephrogenic diabetes insipidus. J Am Board Fam Pract. 1999;12(1):43-7.

- Boton R, Gaviria M, Batlle DC. Prevalence, pathogenesis, and treatment of renal dysfunction associated with chronic lithium therapy. Am J Kidney Dis. 1987;10(5):329-45.

- Kim G-H, Choi NW, Jung J-Y, Song J-H, Lee CH, Kang CM, et al. Treating lithium-induced nephrogenic diabetes insipidus with a COX-2 inhibitor improves polyuria via upregulation of AQP2 and NKCC2. Am J Physiol Renal Physiol. 2008;294(4):F702-F9. http://dx.doi.org/10.1152/ajprenal.00366.2007

- Janowsky EC, Risch C, Janowsky DS. Effects of anesthesia on patients taking psychotropic drugs. J Clin Psychopharmacol. 1981;1(1):14-20.

- Fuentes R, Parra A, Coloma R, Inzunza M, Díaz P, Nazar C. Manejo perioperatorio de pacientes usuarios de antidepresivos. Rev Chil Cir. 2017;69(4):345-51. http://dx.doi.org/10.1016/j.rchic.2017.02.008

- Attri J, Bala N, Chatrath V. Psychiatric patient and anaesthesia. Indian J Anaesth. 2012;56(1):8-13. http://dx.doi.org/10.4103/0019-5049.93337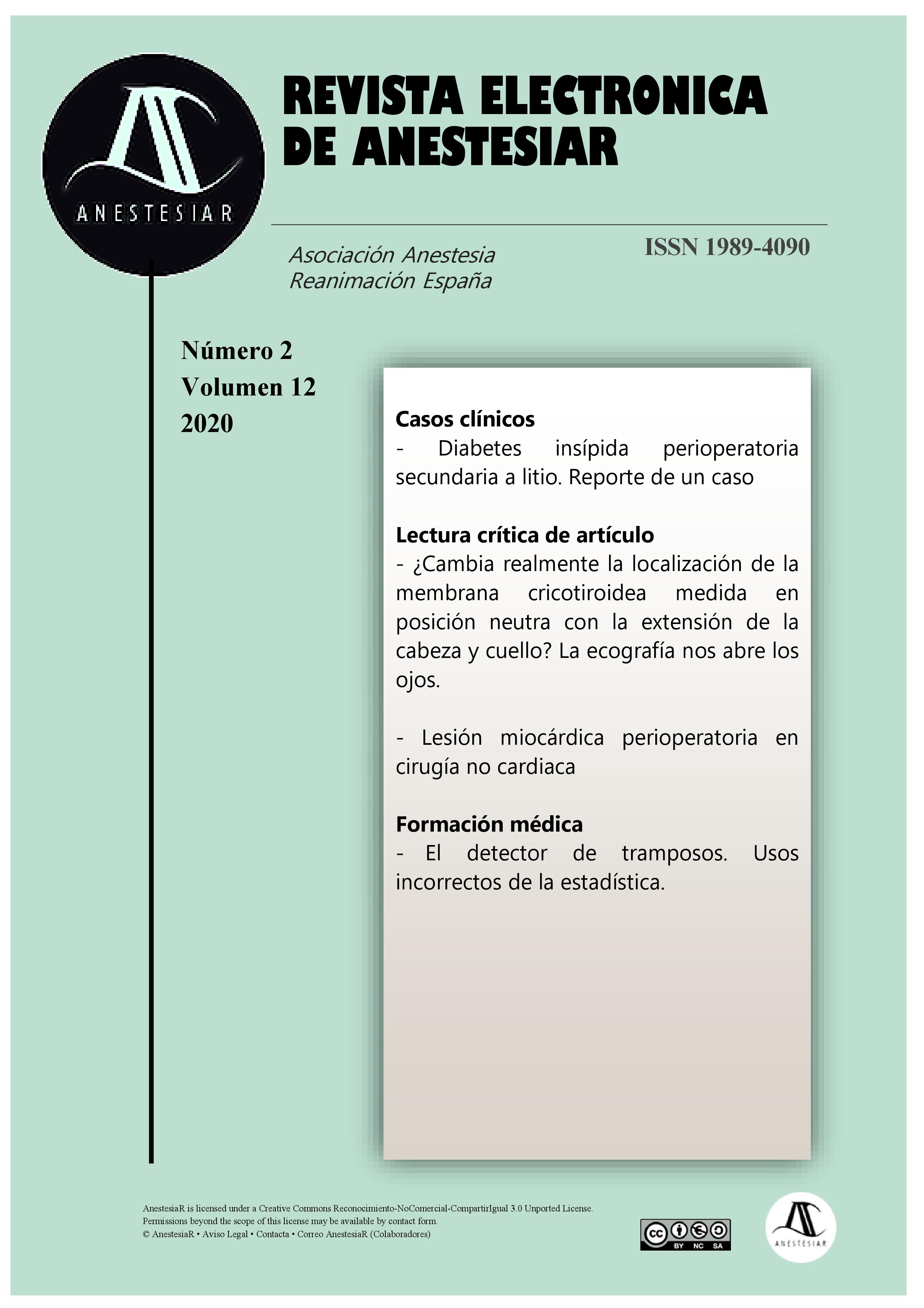 Descargas
Cómo citar
Molero Díez, Y. B., Gómez Fernández, M., & García Lázaro, F. (2020). Diabetes insípida perioperatoria secundaria a litio.: Reporte de un caso. Revista Electrónica AnestesiaR, 12(2), 1. https://doi.org/10.30445/rear.v12i2.817