¿Hay factores pronósticos de mortalidad en el paciente séptico en la UCI? El valor de la tasa de eliminación de lactato sérico
Which one is a better predictor of ICU mortality in septic patients? Comparison between serial serum lactate concentrations and its removal rate. Mahmoodpoor, Ata; Shadvar, Kamran; Saghaleini, Seied Hadi; Koleini, Evin; Hamishehkar, Hadi; Ostadi, Zohre; Nader, Nader D. Journal of Critical Care 2018. 44 (2018) 51–56.
Pedro Manuel Canales Lara

MIR Anestesiología. Complejo Hospitalario Universitario de Albacete.

Luisa María Charco Roca

FEA Anestesiología y Reanimación. Complejo Hospitalario Universitario de Albacete.

Jose María Jiménez Vizuete

Jefe de Sección UCI- Anestesia. Complejo Hospitalario Universitario de Albacete.

Carlos Martínez Villar

MIR Anestesiología. Complejo Hospitalario Universitario de Albacete.
Palabras clave:
factor pronóstico, shock séptico, mortalidad, lactato, tasa eliminación lactato, prognostic factor, septic shock, mortality, lactate, lactate elimination rate
Resumen
La sepsis es la primera causa de muerte por infección en el mundo y el pronóstico es tiempo dependiente de un tratamiento eficaz. Existen descritos numerosos factores pronósticos en la bibliografía sin embargo  hay pocos estudios que los comparen entre ellos para valorar si hay alguno con mayor peso frente a otros. El presente artículo, con una muestra de 82 pacientes, analiza diferentes factores pronósticos en las primeras 24 horas de ingreso como indicadores de supervivencia a los 28 días. Estos son: cifras de lactato, su tasa de eliminación, la saturación venosa central y la diferencia entre la saturación de oxígeno arterio-venosa central. Los resultados muestras que las cifras de lactato a las 24 horas son los que presentan una sensibilidad-especificadad mayores (punto de corte de 2,15 mmol/dl), seguido por la cifra de lactato a las 12 y a las 6 horas.
ABSTRACT
Are there prognostic factors for mortality in the septic patient in the ICU? The value of the serum lactate elimination rate 
Sepsis is the first cause of death due to infection in the world and the prognosis is time dependent on effective treatment. There are numerous prognostic factors described in the literature, however there are just a few studies comparing them among them to assess if there is one with greater weight compared to others. The present article, with a sample of 82 patients, analyzes different prognostic factors in the first 24 hours of admission as survival indicators at 28 days. These are: lactate numbers, their elimination rate, central venous saturation and the difference between central arteriovenous oxygen saturation. The results show that the lactate levels at 24 hours are the ones with higher sensitivity-specificity (cut-off point of 2.15 mmol / dl), followed by the lactate levels at 12 and at 6 hours.
Citas
- Singer M, Deutschman CS, Seymour CW, Shankar-Hari M, Annane D, Bauer M, Bellomo R, Bernard GR, Chiche JD, Coopersmith CM, Hotchkiss RS, Levy MM, Marshall JC, Martin GS, Opal SM, Rubenfeld GD, van der Poll T, Vincent JL, Angus DC. The Third International Consensus Definitions for Sepsis and Septic Shock (Sepsis-3). JAMA. 2016 Feb 23;315(8):801-10. doi: 10.1001/jama.2016.0287.

- Cecconi M, Evans L, Levy M, Rhodes A. Sepsis and septic shock. Lancet. 2018 Jul 7;392(10141):75-87. doi: 10.1016/S0140-6736(18)30696-2. Epub 2018 Jun 21. Review.

- Guo Y, Yang H, Gao W, Ma CE, Li T. Combination of Biomarkers in Predicting 28-Day Mortality for Septic Patients. J Coll Physicians Surg Pak. 2018 Sep;28(9):672-676. doi: 10.29271/jcpsp.2018.09.672.

- He H, Long Y, Liu D, Wang X, Tang B. The Prognostic Value of Central Venous-to-Arterial CO2 Difference/Arterial-Central Venous O2 Difference Ratio in Septic Shock Patients with Central Venous O2 Saturation ≥80. Shock. 2017 Nov;48(5):551-557. doi: 10.1097/SHK.0000000000000893.

- Bhat SR, Swenson KE, Francis MW, Wira CR. Lactate Clearance Predicts Survival Among Patients in the Emergency Department with Severe Sepsis. West J Emerg Med. 2015 Dec;16(7):1118-26. doi: 10.5811/westjem.2015.10.27577. Epub 2015 Dec 8.

- Lokhandwala S, Andersen LW, Nair S, Patel P, Cocchi MN, Donnino MW. Absolute lactate value vs relative reduction as a predictor of mortality in severe sepsis and septic shock. J Crit Care. 2017 Feb;37:179-184. doi: 10.1016/j.jcrc.2016.09.023. Epub 2016 Oct 6.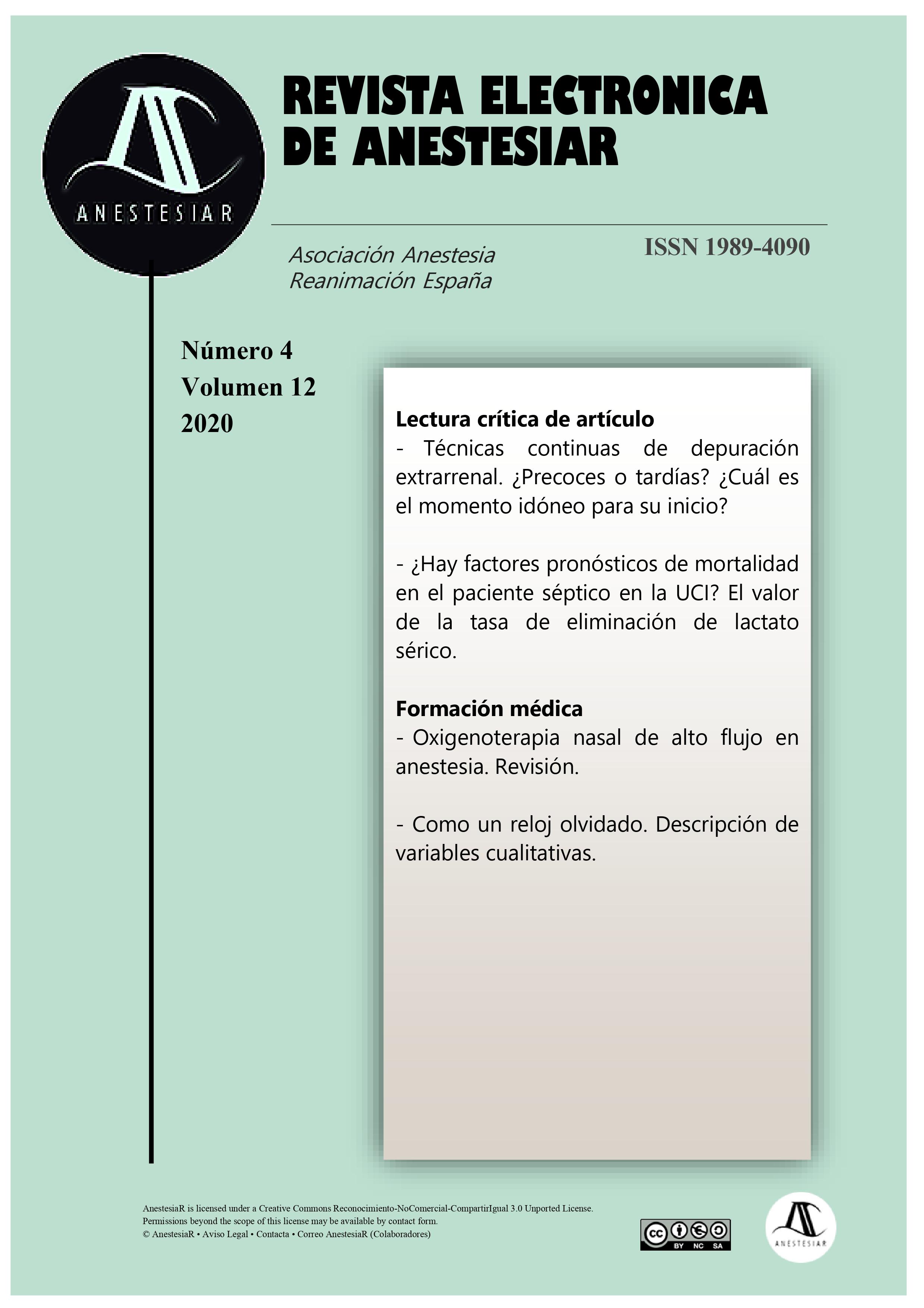 Cómo citar
Canales Lara, P., Charco Roca, L., Jiménez Vizuete, J., & Martínez Villar, C. (2020). ¿Hay factores pronósticos de mortalidad en el paciente séptico en la UCI? El valor de la tasa de eliminación de lactato sérico. Revista Electrónica AnestesiaR, 12(4), 2. https://doi.org/https://doi.org/10.30445/rear.v12i4.809
Sección
Lectura crítica de artículos
Esta obra está bajo licencia internacional
Creative Commons Reconocimiento-CompartirIgual 4.0
.