Bloqueo epidural alto por migración de un catéter paravertebral colocado mediante visión directa del cirujano para control analgésico tras toracotomía
Palabras clave:
Anesthesia, Epidural, Anesthesia, Regional;, Pain Management, Postoperative Care, Postoperative complications, Thoracic Surgery, Anestesia epidural, Anestesia Regional, Manejo del dolor, Cuidados postoperatorios, complicaciones postoperatorias, cirugía torácica
Resumen
La técnica analgésica de elección para el control del dolor postoperatorio tras una cirugía de tórax sigue siendo la analgesia epidural. En los últimos 10 años, varios estudios han presentado al bloqueo paravertebral continuo como igualmente efectivo e incluso más seguro con pocas complicaciones graves asociadas. Presentamos el caso de una paciente de 73 años, ASA III, sometida a cirugía de resección pulmonar con colocación de un catéter paravertebral por visión directa del cirujano para analgesia postoperatoria.
5 horas más tarde la paciente presentó clínica de bloqueo epidural alto (sensitivo hasta T1, motor hasta T4). Se detuvo la infusión de anestésico local, y se confirmó la localización de la punta del catéter mediante imagen radiológica con contraste. En este caso, la migración del catéter cuestiona la sensación de mayor seguridad de esta técnica y hace énfasis en la necesidad de mantener una monitorización estricta de cualquier procedimiento que realicemos.
ABSTRACT
High epidural block after migration of paravertebral catheter placed by surgeon's direct vision for post-thoracotomy analgesia
The analgesic technique of choice for postoperative pain control after thoracic surgery remains a thoracic epidural analgesia. In the last 10 years, many studies have shown continuous paravertebral block as equally effective and even safer, with few cases of serious associated complications. We present the case of a 73-year-old female, ASA III, undergoing a left atypical pulmonary resection with intraoperative placement of a paravertebral catheter by surgeon's direct vision for postoperative analgesia.
5 hours later she presented a high epidural block (T1 sensitive, T4 motor). Local anaesthetic infusion was stopped, and the epidural catheter's tip location was confirmed by contrast radiological image. In our case, catheter's migration questions the sense of greater safety of this technique and emphasizes the mandatory need of strict monitoring in any performed procedure.
Citas
- Eason, M.J., Wyatt, R. Paravertebral thoracic block- A reappraisal. Anaesthesia. 1979; 34: 638-642.

- Raveglia, F., Rizzi, A., Leporati, A., Di Mauro, P., Cioffi, U., Baisi, A. Analgesia in patients undergoing thoracotomy: Epidural versus paravertebral technique. A randomized, double-blind, prospective study. J Thorac Cardiovasc Surg. 2014;147: 469-74.

- Garutti, I., Hervias, M., Barrio, J.M., Fortea, F., De la Torre, F. Subdural Spread of Local Anesthetic Agent following Thoracic Paravertebral Block and Cannulation. Anesthesiology. 2003; 98:1005–7.
- Frohm, R.M., Raw, R.M., Haider, N., Boezaart, A.P. Epidural Spread After Continuous Cervical Paravertebral Block: A Case Report. Reg Anesth Pain Med. 2006; 31(3): 279–281.

- Yoshida, T., Shimizu, H., Furutani, K., Baba, H. Unintentional epidural placement of a thoracic paravertebral catheter inserted using an ultrasound-guided technique: a case report. J Anesth. 2016; 30 (4): 727-730.

- Lucas, S.D., Higdon, T., Boezaart, A.P. Unintended Epidural Placement of a Thoracic Paravertebral Catheter in a Patient with Severe Chest Trauma. Pain Med. 2011; 12: 1284–1289.

- Kotzé, A., Scally, A., Howell, S. Efficacy and safety of different techniques of paravertebral block for analgesia after thoracotomy: a systematic review and metaregression. Br J Anaesth 2009; 103: 626–36.

- Karmakar, M.K., Kwok, W.H., Kew, J. Thoracic paravertebral block: radiological evidence of contralateral spread anterior to the vertebral bodies. Br J Anaesth. 2000; 84: 263-5.

- Luyet, C., Hermann, G., Ross, S., Vogt, A., Greif, R., Moriggl, B. et al. Ultrasound-guided thoracic paravertebral puncture and placement of catheters in human cadavers: where do catheters go?. Br J Anaesth. 2011; 106 (2): 246–54.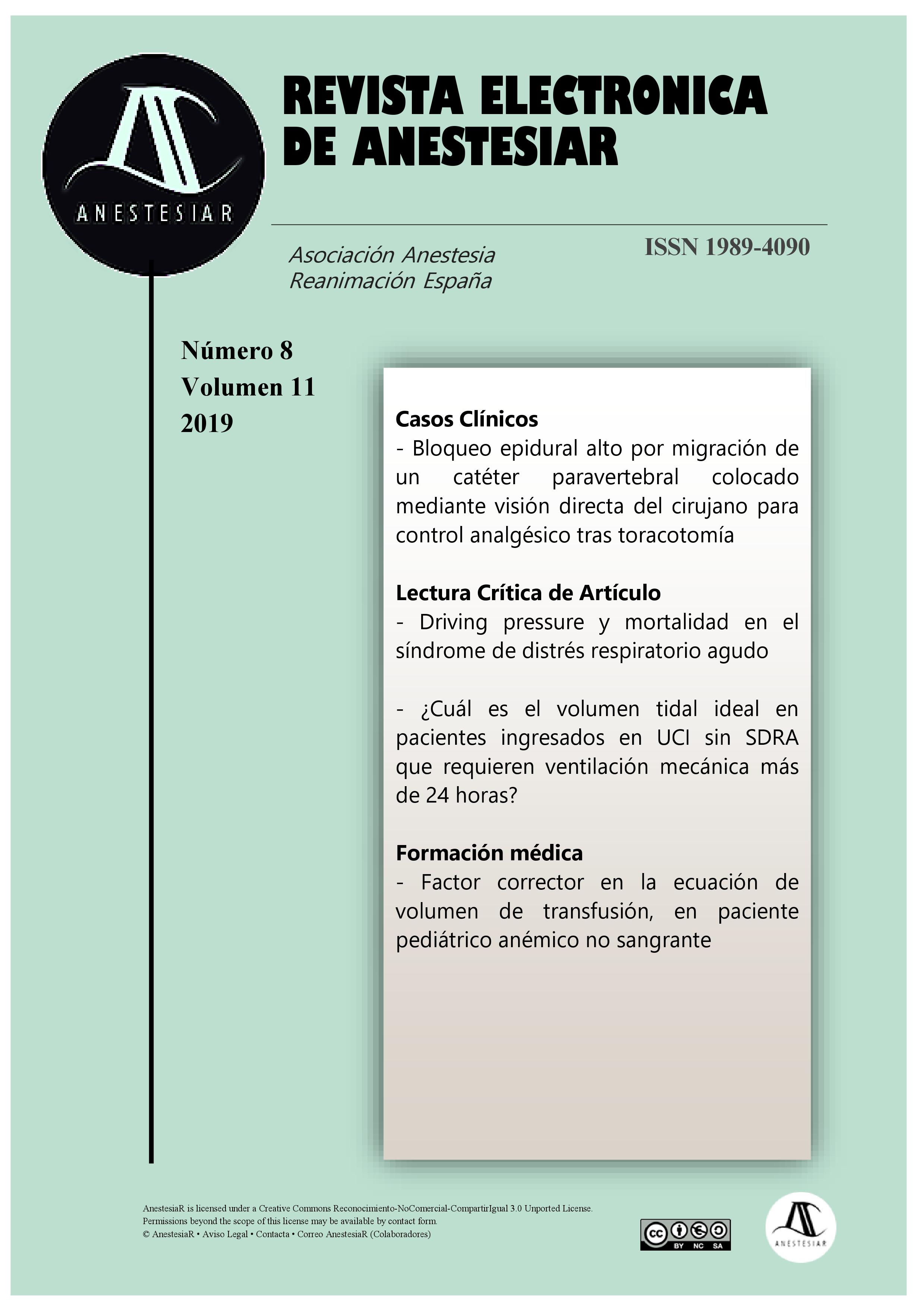 Descargas
Cómo citar
Insausti Pacheco, I., Martínez García, E., Roca Amatria, G., & Moret Ruiz, E. (2019). Bloqueo epidural alto por migración de un catéter paravertebral colocado mediante visión directa del cirujano para control analgésico tras toracotomía. Revista Electrónica AnestesiaR, 11(8), 1. https://doi.org/10.30445/rear.v11i8.797