Estatus epiléptico refractario no convulsionante en postoperatorio de pancreatectomía total: A propósito de un caso
Refractary epilepticus no convulsive status in total pancreatectomy post-operative: a case report
José Antonio García Martínez

Médico Interno Residente en Anestesiología, Reanimación y Terapeutica del Dolor Hospital Clínico Universitario Virgen de la Arrixaca de Murcia

Maria Candelaria Benimeli López

Médico Interno Residente en Anestesiología, Reanimación y Terapeutica del Dolor Hospital Clínico Universitario Virgen de la Arrixaca de Murcia

Francisco García-Legaz Navarro

Médico Interno Residente en Anestesiología, Reanimación y Terapeutica del Dolor Hospital Clínico Universitario Virgen de la Arrixaca de Murcia

Carlos García Palenciano

Médico Interno Residente en Anestesiología, Reanimación y Terapeutica del Dolor Hospital Clínico Universitario Virgen de la Arrixaca de Murcia
Palabras clave:
Estatus epiléptico, crisis epiléptica, casos clínicos, Anestesia General, Levetiracetam, epileptic status, Epileptic crisis, Clinical cases, General anesthesia
Resumen
Se presenta un caso clinico de Estatus Epileptico No convulsionante en el posopoeratorio de una paciente de 79 años sin antecedentes de epilepsia, y su probable relación con la antibioterapia pautada. Seguidamente se realiza una discusion acerca del estatus epileptico y su aparicion como efecto secundario del tratamiento con ciertos antibioticos. 
ABSTRACT
We present a clinical case of non-convulsive epileptic status in the post-operative of a 79-year-old patient with no history of epilepsy, and its probable relationship with scheduled antibiotic therapy. Then a discussion about the epileptic status and its appearance as a side effect of the treatment with certain antibiotics is made.
Citas
1. Herrero Meseguer J.I., Corral Ansa L. Convulsiones. En: Montejo J.C., Garcia de Lorenzo A., Marco P., Ortiz C. Manual de Medicina Intensiva. 5ª ed. Barcelona: Elsevier; 2016. p. 212-217
2. Ahro Kim, Ji-Eun Kim, Young-Min Paek, Keun-Sik Hong, Young-Jin Cho, Hee-Kyung Park. Cefepime-Induced Non-Convulsive Status Epilepticus. J Epilepsy Res. 2013 Jun; 3(1): 39–41 Disponible en:
http://j-epilepsy.org/journal/view.php?doi=10.14581/jer.13008
3. Lizasoaín M., Noriega AR. Tolerance and safety of carbapenems: the use of meropenem. Enferm Infecc Microbiol Clin. 1997 Sep;15 Suppl 1:73-7.
4. Geroulanos SJ. Meropenem versus imipenem/cilastatin in intra-abdominal infections requiring surgery. J Antimicrob Chemother. 1995 Jul;36 Suppl A:191-205. Disponible en: https://www.ncbi.nlm.nih.gov/pubmed/8543495
5. Norrby SR, Gildon KM. Safety profile of Meropenem: A review of nearly 5,000 patients treated with Meropenem. Scand J Infect Dis 1999 31(1):3-10.
6. Navarro V, Mazoit JX. Drugs for status epilepticus treatment. Rev Neurol (Paris). 2009; 165:355-65.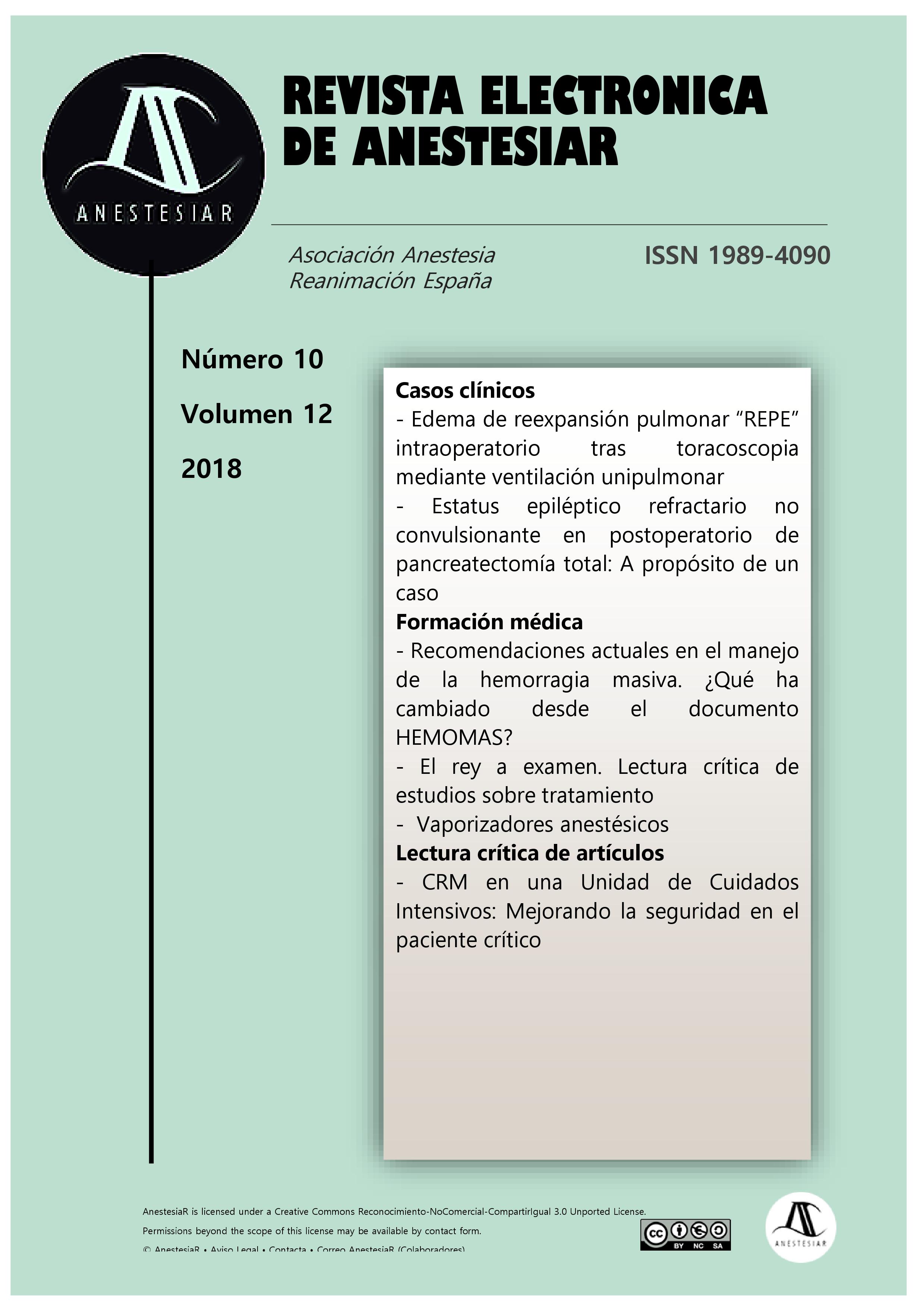 Cómo citar
García Martínez, J., Benimeli López, M., García-Legaz Navarro, F., & García Palenciano, C. (2019). Estatus epiléptico refractario no convulsionante en postoperatorio de pancreatectomía total: A propósito de un caso. Revista Electrónica AnestesiaR, 10(12), 2. https://doi.org/https://doi.org/10.30445/rear.v10i12.653
Esta obra está bajo licencia internacional
Creative Commons Reconocimiento-CompartirIgual 4.0
.