mHealth: el uso de aplicaciones móviles en medicina
Rubén Ferreras Vega

Servicio Anestesia y Reanimación pediátrica. Hospital 12 de Octubre, Madrid
Palabras clave:
aplicaciones móviles, aplicaciones médicas, mHealth, eHealth, apps, medical apps
Resumen
El concepto reciente de mHealth está cada vez más presente en nuestra práctica laboral, sin embargo, ¿qué sabemos sobre las aplicaciones médicas? 
Este artículo, trata de resumir la normativa actual sobre las aplicaciones médicas tanto si se consideran dispositivos médicos o documentos digitales y a la vez proponer un entorno seguro para el uso del mHealth.
ABSTRACT
The recent concept of mHealt is present every day in our daily practice; however, what do we know about medical apps?
This article tries to resume the current legislation about medical apps, no matter they´re considered medical devices or digital files, and as well to propose a safe environment for the use of MHealth. 
Citas
1.- https://research2guidance.com/product/mhealth-economics-2017-current-status-and-future-trends-in-mobile-health
2.- https://www.iqvia.com/
3.- http://ec.europa.eu/DocsRoom/documents/17921
4.- (https://www.boe.es/buscar/pdf/2009/BOE-A-2009-17606-consolidado.pdf)
5.- https://www.rcplondon.ac.uk/guidelines-policy/using-apps-clinical-practice-guidance
6.- https://www.gov.uk/topic/medicines-medical-devices-blood/vigilance-safety-alerts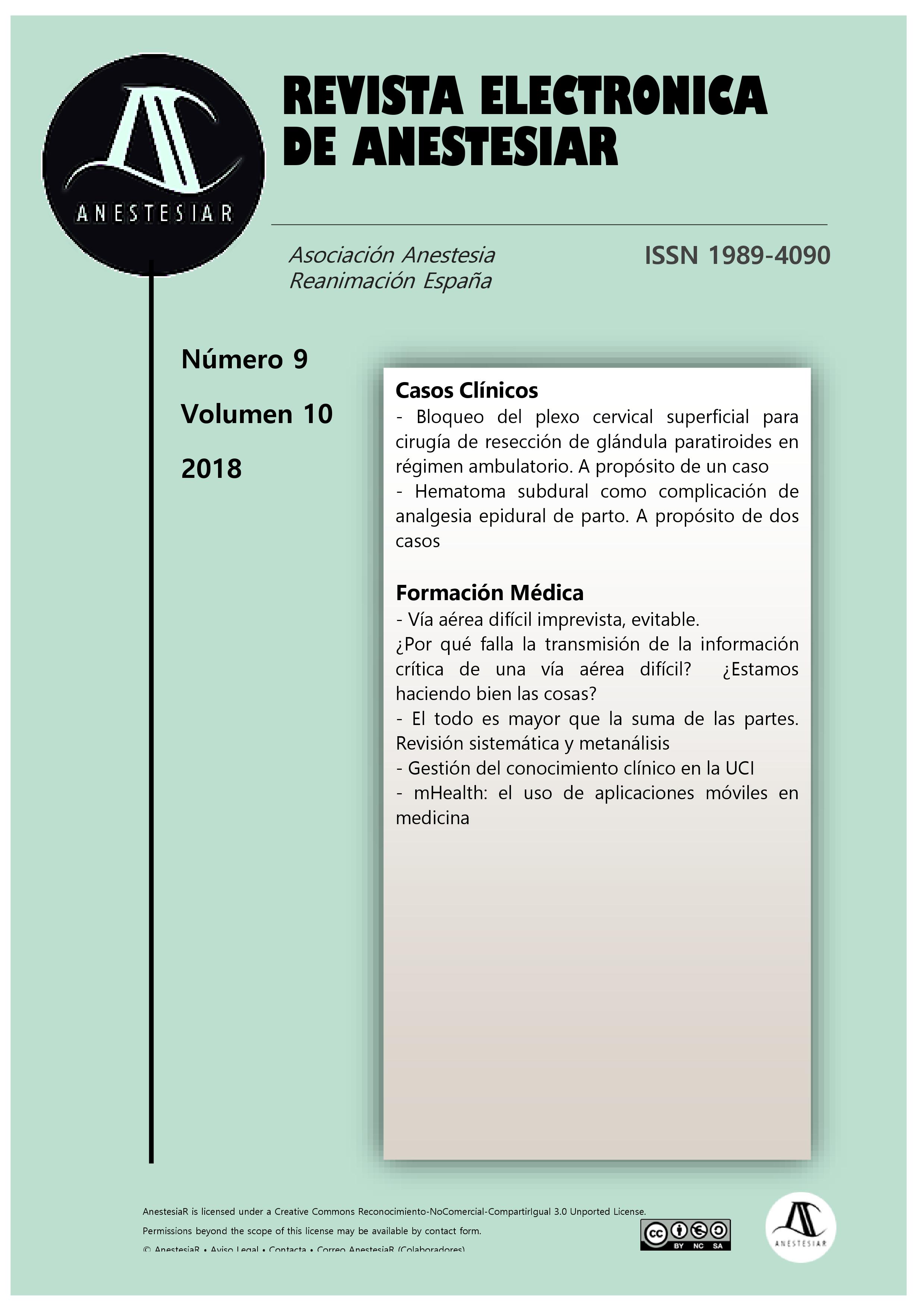 Cómo citar
Vega, R. (2018). mHealth: el uso de aplicaciones móviles en medicina. Revista Electrónica AnestesiaR, 10(9), 6. https://doi.org/https://doi.org/10.30445/rear.v10i9.652
Esta obra está bajo licencia internacional
Creative Commons Reconocimiento-CompartirIgual 4.0
.