Consideraciones anestésicas con el uso del GLIOLAN®para la resección de gliomas malignos
Helena Benito Naverac

Servicio Anestesia. Hospital Clínico Universitario Lozano Blesa. Zaragoza
Palabras clave:
Anestesia, GATIV, Gliolan, Gliomas, neurocirugía, Tumores, Anaesthesia, neurosurgery, tumours
Resumen
Los gliomas cerebrales de alto grado son uno de los tumores infiltrativos más difíciles de tratar y su resección quirúrgica no suele ser completa. La utilización de marcadores fluorescentes (clorhidrato de 5 amino-levulínico ( 5 ALA)( Gliolan® ) permite realizar una extirpación más completa de la lesión.
ABSTRACT
High grade brain gliomas are among the most difficult infiltrate tumours for treatment and its surgical resection usually is not completed. The use of fluorescent markers (aminolevulinic acid hydrochloride (5 ALA) (Gliolan®) allows a more comprehensive removal of the injury.
Citas
1. http://www.ema.europa.eu/docs/es_ES/document_library/EPAR_-_Product_Information/human/000744/WC500021790
2. Carretero, M; Negrete, N; Muñoz, G; Sánchez, J; Bernal, LM. Anesthetic treatment during resection of high-grade malignant gliomas after injection of 5-aminolevulinic acid to enhance intraoperative visualization. Rev Esp Anestesiol Reanim, 2010 vol. 57(6) pp. 393-5.
3. Fernández-Candil, J; Pacreu, S; Villaba, G; Fernández, GS. Anesthetic approach and implications of the use of 5-aminolevulinic acid as a tumor marker in the resection of malignant gliomas. Rev Esp Anestesiol Reanim, 2010 vol. 57(6) pp. 395-6.
4. Buijs. EJ, Scholten JG, Ross JJ. Successful administration of sugammadex in a patient with acute porphyria: A case report. Eur J Anasthesiol. 2014 Aug (8) 439-441.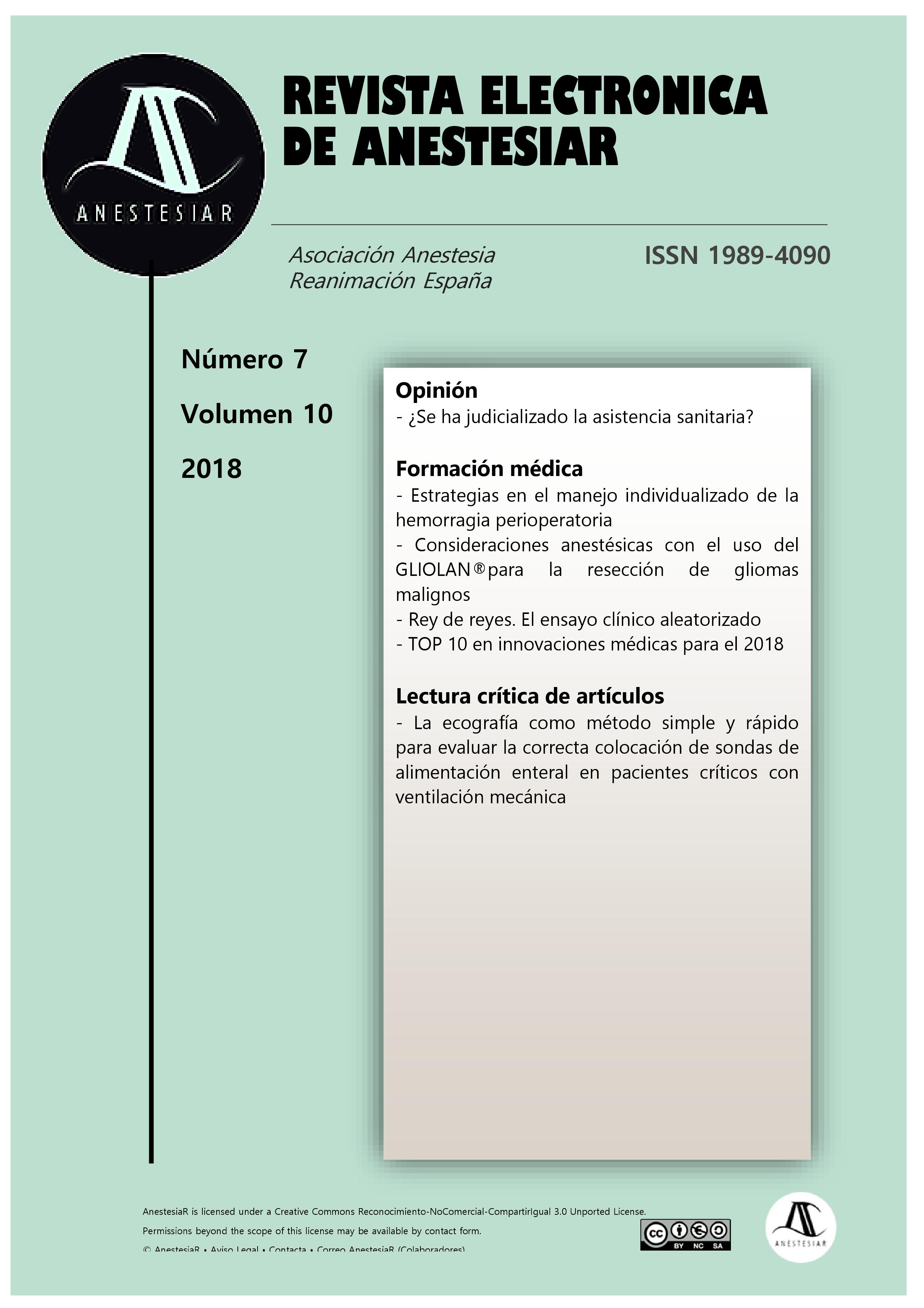 Cómo citar
Benito Naverac, H. ( ). Consideraciones anestésicas con el uso del GLIOLAN®para la resección de gliomas malignos. Revista Electrónica AnestesiaR, 10(7), 3. https://doi.org/https://doi.org/10.30445/rear.v10i7.610
Esta obra está bajo licencia internacional
Creative Commons Reconocimiento-CompartirIgual 4.0
.