Fluidoterapia en Neurocirugía Craneal
Helena Benito Naverac

FEA de Anestesiología y Reanimación. Hospital Clínico Universitario Lozano Blesa de Zaragoza.
Palabras clave:
fluidoterapia, neurocirugía, fluid therapy, neurosurgery
Resumen
La fluidoterapia junto a la hipnosis, la protección neurovegetativa, el alivio del dolor y el mantenimiento de un adecuado bloqueo neuromuscular es uno de los pilares fundamentales de la práctica anestésica. Valorar las necesidades hídricas es un difícil desafío en el paciente neuroquirúrgico.
ABSTRACT
Fluid therapy in Cranial Neurosurgery
Fluid therapy, hypnosis, neurovegetative protection, pain relief and the maintenance of an adequate neuromuscular blockade is one of the fundamental pillars of anaesthetic practice. Valuing the necessary fluids is a difficult test for the neurosurgical patient.
Citas
1. Singer, M., J. Clarke, and E.D. Bennett, Continuous hemodynamic monitoring by esophageal Doppler. Crit Care Med, 1989. 17(5): p. 447-52. (PubMed)
2. Deflandre E, Bonhomme V, Hans P: Delta down compared with delta pulse pressure as an indicator of volaemia during intracranial surgery, Br J Anaesth 100:245–250, 2008. (HTML)
3. Berkenstadt H, Margalit N, Hadani M, et al: Stroke volume variation as a predictor of fluid responsiveness in patients undergoing brain surgery, Anesth Analg 92:984–989, 2001. (PubMed)
4. Guías clínicas para la optimización hemodinámica perioperatoria de los pacientes adultos durante la cirugía no cardiaca. Sedar 2015.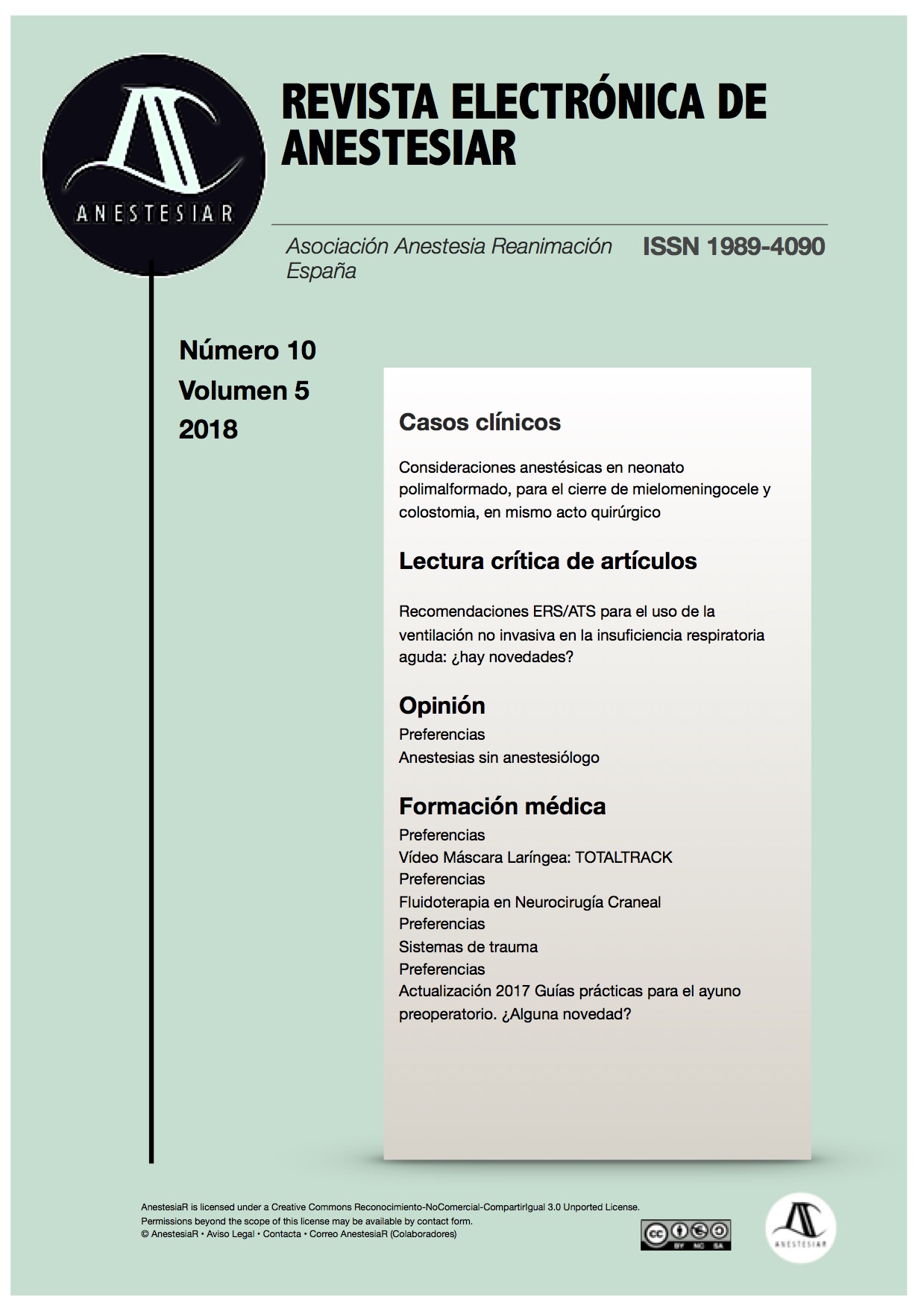 Cómo citar
Benito Naverac, H. ( ). Fluidoterapia en Neurocirugía Craneal. Revista Electrónica AnestesiaR, 10(5), 5. https://doi.org/https://doi.org/10.30445/rear.v10i5.454
Esta obra está bajo licencia internacional
Creative Commons Reconocimiento-CompartirIgual 4.0
.