Traqueotomía Percutánea en Reanimación (I): Historia, indicaciones, complicaciones
Palabras clave:
Ventilación mecánica, Traqueostomí­a, Reanimación,, Formación, Checklist
Resumen
Un número importante de los pacientes de las Unidades de Cuidados Críticos y Reanimación precisan de asistencia respiratoria con ventilación mecánica (VM) durante períodos prolongados de tiempo, y cada vez es más frecuente que en estos pacientes se plantee la realización de traqueotomías para proteger las estructuras laríngeas y favorecer el destete.
La incidencia de traqueostomías en pacientes con ventilación mecánicas prolongada es creciente (en Carolina del Norte (EEUU), Cox y cols. describen un incremento del 200% entre los años 1.993 y 2.002, y en Ontario (Canadá) prevén un aumento del 80% en la necesidad de VM para el 2.026).
La Traqueotomía Percutánea por Dilatación (TPD) se ha convertido en la técnica de primera elección sobre la traqueotomía quirúrgica convencional en muchos países calculándose que se realiza en más del 15% de los pacientes críticos.
En España la TPD realizada a pie de cama en Reanimación es una técnica bien establecida, considerándose de primera elección en pacientes críticos, puesto que evita el traslado del paciente al quirófano, además de ser una técnica rápida, sencilla, segura y coste-efectiva aunque no exenta de riesgos.
Citas
1.- Cox CE, Carson SS, Holmes GM, Howard A, Carey TS. Increase in tracheostomy for prolonged mechanical ventilation in North Carolina, 1993-2002. Crit Care Med 2004; 32: 2219-26.
2.- Needham DM, Bronskill SE, Calinawan JR, Sibbald WJ, Pronovost PJ, Laupacis A. Projected incidence of mechanical ventilation in Ontario to 2026: Preparing for the aging baby boomers. Crit Care Med. 2005 Mar;33(3):574-9.
3.- Westphal K, Byhahn C, Rinne T, Wilke HJ, Wimmer-Greinecker G, Lischke V. Tracheostomy in cardiosurgical patients: surgical tracheostomy versus ciaglia and fantoni methods. Ann Thorac Surg. 1999 Aug;68(2):486-92.
4.- Kluge S, Baumann HJ, Maier C, Klose H, Meyer A, Nierhaus A, Kreymann G. Tracheostomy in the intensive care unit: a nationwide survey. Anesth Analg. 2008 Nov;107(5):1639-43.
5.- Susanto I. Comparing percutaneous tracheostomy with open surgical tracheostomy. BMJ. 2002 Jan 5;324(7328):3-4.
6.- Massick DD, Yao S, Powell DM, Griesen D, Hodgood T, Allen JNet al. Bedside tracheostomy in the intensive care unit: A prospective randomized trial comparing open surgical tracheostomy with endoscopically guided percutaneous dilational tracheotomy. Laryngoscope 2001; 111: 494-500.
7.- Delaney A, Bagshaw SM, Nalos M. Percutaneous dilatational tracheostomy versus surgical tracheostomy in critically ill patients: a systematic review and meta-analysis. Crit Care. 2006;10(2):R55.
8.- Madero Pérez J, Vidal Tegedor B, Abizanda Campos R, Cubedo Bort M, Alvaro Sánchez R, Micó Gómez M. Traqueostomía percutánea en pacientes ventilados. Med Intensiva. 2007 Apr;31(3):120-5.
9.- Simpson TP, Day CJ, Jewkes CF, Manara AR. The impact of percutaneous tracheostomy on intensive care unit practice and training. Anaesthesia. 1999 Feb;54(2):186-9.
10.- José M. Añón, Maria Paz Escuela, Vicente Gómez, Abelardo García de Lorenzo, Juan C. Montejo, Jorge López Use of percutaneous tracheostomy in intensive care units in Spain. Results of a national survey. Intensive Care Med. 2004 Jun;30(6):1212-5. Epub 2004 Apr 30.
11.- M. Páeza, F. Buisána, A. Almaraz, A. Martínez-Martínez, F. Muñoz.. Traqueotomía percutánea con la técnica de Ciaglia Blue Rhino®: un análisis crítico tras un año de experiencia. Rev. Esp. Anestesiol. Reanim. 2005; 52: 466-473.
12.- Higgins KM, Punthakee X. Meta-analysis comparison of open versus percutaneous tracheostomy. Laryngoscope. 2007 Mar;117(3):447-54.
13.- Sollid S. J., Strand K., Søreide E. Percutanous dilatational tracheotomy in the ICU: a Norwegian survey focusing on perceived risk and safety attitudes. European Journal of Anaesthesiology: November 2008 - Volume 25 - Issue 11 - p 925-932.
14.- Pablo Jorge Monjas, César Aldecoa-Álvarez Santullano. Dispositivos de Abordaje Percutáneo. Documentos ESRA.
15.- Papiro de Ebers
16.- Toye FJ, Weinstein JD. Percutaneous tracheostomy device. Surgery 1969; 65:384-389.
17.- Seldinger SI. Catheter replacement of the needle in percutaneous arteriography. Acta Radiol. 1953; 39: 368-76.
18.- Sheldon CH, Pudenz RH, Freshwater DB et al. New method for tracheotomy. J Neurosurg 1955; 12: 428-31.
19.- Sheldon CH, Pudenz RH, Tichy FY. Percutaneous tracheostomy. JAMA 1957;165:2068-70.
20.- Ciaglia P, Firsching R, Syniec C: Elective percutaneous dilatational tracheotomy. A new simple bedside procedure; preliminary report. Chest 1985 Jun; 87(6): 715-9.
21.- Griggs WM, Worthley LI, Gilligan JE, Thomas PD, Myburg JA. A simple percutaneous tracheostomy technique. Surg Gynecol Obstet. 1990 Jun;170(6):543-5.
22.- Fantoni A, Ripamonti D. A non-derivative, non-surgical tracheostomy: the translaryngeal method. Intensive Care Med. 1997 Apr;23(4):386-92.
23.- Nani R, Sarpellon M, Marson F, Fonzari C, Farnia A, De Castello M. The Fantoni translaryngeal tracheostomy: perioperative complications In a series of 220 consecutive patients. Minerva Anestesiol. 2002 Mar;68(3):89-93.
24.- Byhahn C, Lischke V, Scheifler G, Westphal K. Ciaglia blue rhino: a modified technique for percutaneous dilatation tracheostomy. Technique and early clinical results. Anaesthesist. 2000 Mar;49(3):202-6.
25.- Byhahn C, Wilke HJ, Halbig S. Percutaneous tracheotomy: Ciaglia blue rhino versus the basic Ciaglia technique of percutaneous dilatational tracheotomy. Anesth Analg 2000 Oct; 91(4): 882-6.
26.- Johnson JL, Cheatham ML, Sagraves SG, Block EF, Nelson LD. Percutaneous dilational tracheostomy: a comparison single-versus multiple-dilator techniques. Crit Care Med 2001;29:1251-4.
27.- PercuTwist™ set. Rüsch GmbH, Germany.
28.- Frova G, Quintel M: A new simple method for percutaneous tracheostomy: controlled rotating dilation. A preliminary report. Intensive Care Med 2002, 28:299-303.
29.- Sengupta N, Ang KL, Prakash D, Ng V, George SJ. Twenty months' routine use of a new percutaneous tracheostomy set using controlled rotating dilation. Anesth Analg. 2004 Jul;99(1):188-92.
30.- Westphal K, Maeser D, Scheifler G, et al. PercuTwist: a new single dilator technique for percutaneous tracheostomy. Anesth Analg 2003;96:229–32.
31.- Yurtseven N, Aydemir B, Karaca P, Aksoy T, Komurcu G, Kurt M, Ozkul V, Canik S. PercuTwist: a new alternative to Griggs and Ciaglia's techniques. Eur J Anaesthesiol. 2007 Jun;24(6):492-7. Epub 2007 Jan 8.
32.- Thant, M. and Samuel, T. Posterior tracheal wall tear with PercuTwist™. Anaesthesia, 57: 501–521.
33.- Scherrer E, Tual L, Dhonneur G. Tracheal ring fracture during a PercuTwist tracheostomy procedure. Anesth Analg. 2004 May;98(5):1451-3, table of contents.
34.- Ambesh SP, Pandey CK. Ambesh's T-Dagger: a newdevice for quick bedside percutaneous dilational tracheostomy. Anesth Analg. 2005 Jul;101(1):302 3.
35.- Ambesh SP, Tripathi M, Pandey CK, Pant KC, Singh PK. Clinical evaluation of the "T-Dagger": a new bedside percutaneous dilational tracheostomy device. Anaesthesia. 2005 Jul;60(7):708-11.
36.- Ciaglia Blue Dolphin™
37.- Cianchi G, Zagli G, Bonizzoli M, Batacchi S, Cammelli R, Biondi S, Spina R, Peris A. Comparison between single-step and balloon dilatational tracheostomy in intensive care unit: a single-centre, randomized controlled study. Br J Anaesth. 2010 Jun;104(6):728-32. Epub 2010 Apr 21.
38.- Zgoda M, Berger R. Tracheostomy in the critically ill patient: who, when and how? Clin Pulm Med 2006;13:1-10.
39.- Klaus Westphal, Christian Byhahn, Hans-Joachim Wilke, Volker Lischke. Percutaneous Tracheostomy: A Clinical Comparison of Dilatational (Ciaglia) and Translaryngeal (Fantoni) Techniques. Anesth Analg. 1999 Oct;89(4):938-43.
40.- Byhahn C, Westphal K, Meininger D, Gurke B, Kessler P, Lischke V. Single-dilator percutaneous tracheostomy: a comparison PercuTwist and Ciaglia blue rhino techniques. Intensive Care Med 2002;28:1262-6.
41.- Quintel M, Bräuer A. Timing of tracheostomy. Minerva Anestesiol. 2009 Jun;75(6):375-83. Epub 2008 Oct 23.
42.- Bickenbach J, Fries M, Offermanns V, Von Stillfried R, Rossaint R, Marx G, Dembinski R. Impact of early vs. late tracheostomy on weaning: a retrospective analysis. Minerva Anestesiol. 2011 May 26.
43.- McWhorter AJ. Tracheotomy: timing and techniques. Curr Opin Otolaryngol Head Neck Surg 2003; 11:473–479.
44.- Colice GL. Resolution of laryngeal injury following translaryngeal intubation. Am Rev Respir Dis 1992; 145 (2 Pt 1):361–364.
45.- Heffner JF, Zamora C. Clinical predictors of prolonged translaryngeal intubation in patients with the adult respiratory distress syndrome. Chest 1990;97(2):447-452.
46.- Groves DS, Durbin CG Jr. Tracheostomy in the critically ill: indications, timing and techniques. Curr Opin Crit Care. 2007 Feb;13(1):90-7.
47.- TRACMAN study.
48.- Durbin CG Jr, Perkins MP, Moores LK. Should tracheostomy be performed as early as 72 hours in patients requiring prolonged mechanical ventilation? Respir Care. 2010 Jan;55(1):76-87.
49.- J. Málaga Gil, R. Galván García, J.F. Fernández Rodríguez, C. Martín García, J. Villegas del Ojo, M.L. Mora Quintero. Traqueostomía percutánea de emergencia en un paciente politraumatizado. emergencias 2005;17:274-276.
50. Klein M, Weksler N, Kaplan DM, Weksler D, Chorny I, Gurman GM: Emergency percutaneous tracheostomy is feasable in experienced hands. Eur J Emerg Med 2004, 11:108-112.
51. Clarke J, Jaffery A: How we do it: emergency percutaneous tracheostomy: a case series. Clin Otolaryngol Allied Sci 2004, 29: 558-561.
52. Ben-Nun A, Altman E, Best LA: Emergency percutaneous tracheostomy in trauma patients: an early experience. Ann Thorac Surg 2004, 77:1045-1047.
53. Ault MJ, Ault B, Ng PK: Percutaneous dilatational tracheostomy for emergent airway access. J Intensive Care Med 2003, 18: 222-226.
54. Terragni PP, Antonelli M, Fumagalli R, Faggiano C, Berardino M, Pallavicini FB, Miletto A, Mangione S, Sinardi AU, Pastorelli M, Vivaldi N, Pasetto A, Della Rocca G, Urbino R, Filippini C, Pagano E, Evangelista A, Ciccone G, Mascia L, Ranieri VM. Early vs late tracheotomy for prevention of pneumonia in mechanically ventilated adult ICU patients: a randomized controlled trial. JAMA. 2010 Apr 21;303(15):1483-9.
55.- Rakesh Bhandary, Niraj Niranjan. Anaesthesia Tutorial of the Week (ATOTW). TRACHEOSTOMY. ANAESTHESIA TUTORIAL OF THE WEEK 241, 17TH OCTOBER 2011. World Federation of Societies of Anaesthesiologists
56.- Delaney A, Bagshaw SM, Nalos M. Percutaneous dilatational tracheostomy versus surgical tracheostomy in critically ill patients: a systematic review and meta-analysis. Crit Care. 2006;10(2):R55.
57.- XXXVII CONGRESO NACIONAL DE LA SOCIEDAD ESPAÑOLA DE MEDICINA INTENSIVA, CRÍTICA Y UNIDADES CORONARIAS
58.- Durbin CG Jr. Tracheostomy: why, when, and how? Respir Care. 2010 Aug;55(8):1056-68.
59.- Wright SE, VanDahm K: Long-term care of the tracheostomy patient. Clin Chest Med 2003, 24:473-487.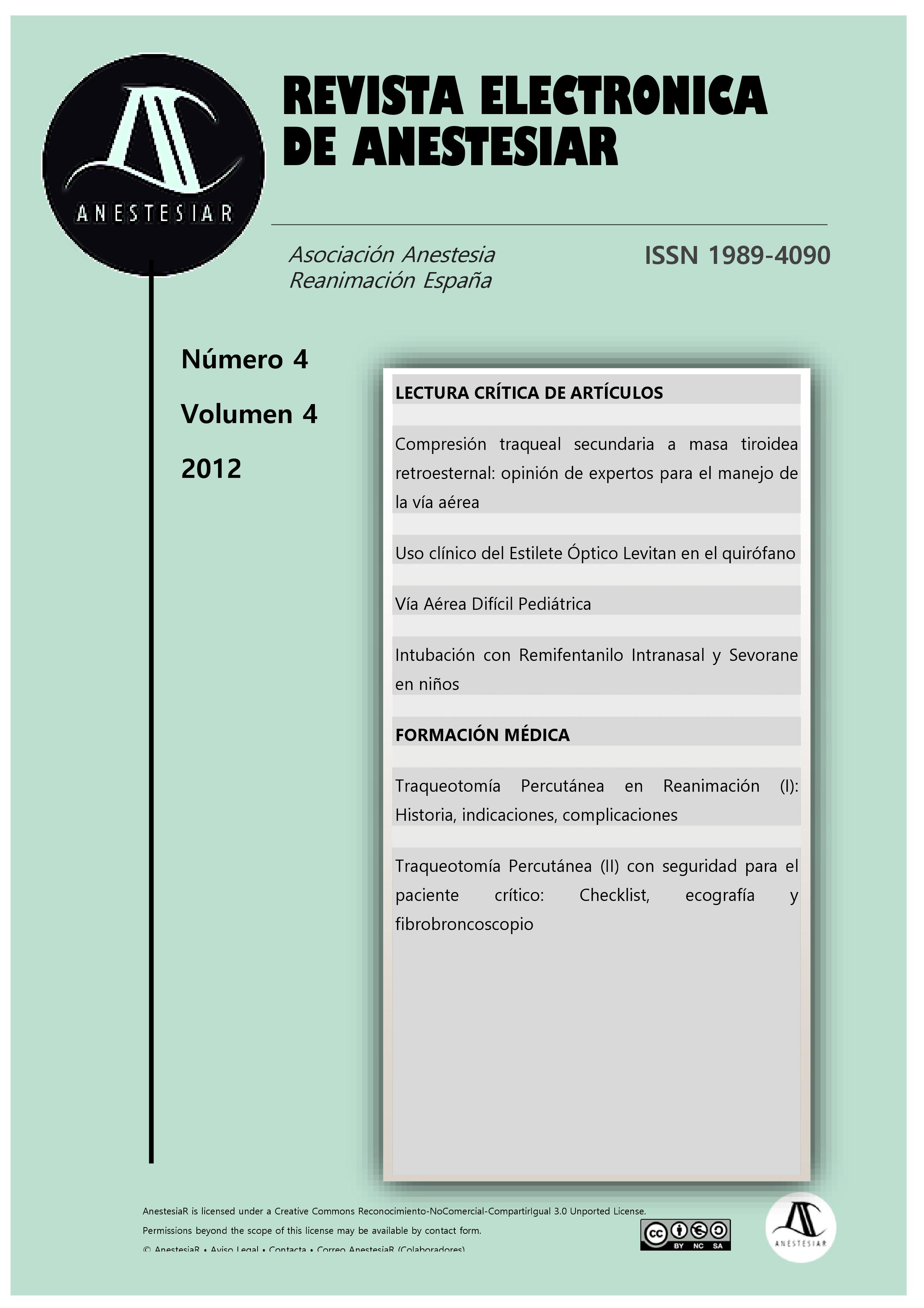 Cómo citar
Martínez Hurtado, E., Olivas Garcí­a, E., Martínez Fariñas, P., Bernardino Santos, M., & García del Valle y Manzano, S. (2012). Traqueotomía Percutánea en Reanimación (I): Historia, indicaciones, complicaciones. Revista Electrónica AnestesiaR, 4(4), 3. https://doi.org/10.30445/rear.v4i4.368
Sección
Artículos de revisión