Uso del GlideScope en Vía Aérea Difícil en la práctica clínica diaria
Aziz M, Healy D, Kheterpal S, Fu R, Dillman D, Brambrink A. Routine Clinical Practice Effectiveness of the Glidescope in Difficult Airway Management. An Analysis of 2.004 Glidescope Intubations, Complications and Failures from Two Institutions. Anesthesiology Jan 2011; 114: 34-41.
Palabras clave:
videolaringoscopios, via aerea dificil, vad
Resumen
El Glidescope (GVL) es un videolaringoscopio rígido utilizado sobre todo como herramienta en la Vía Aérea Difícil (VAD). Sin embargo, existen muy pocos estudios que establezcan la mejora de la visión laríngea comparado con la laringoscopia directa. A pesar de su eficacia en expertos, su efectividad real en el uso rutinario de IOT difícil no está documentada.
Este estudio evalúa el éxito del Glidescope en vía aérea difícil o fácil y su éxito tras laringoscopia directa fallida, predictores de fallo con el GVL y complicaciones asociadas a su uso.
Citas
1.- Cooper RM. Use of a new videolaryngoscope (GlideScope) in management of a difficult airway. Can J Anaesth 2003; 50:611-3.
2.- Sun DA, Warriner CB, Parsons DG, Klein R, Umedaly HS, Moult M. The GlideScope Video Laryngoscope: Randomized clinical trial in 200 patiens. Br J Anaesth 2005; 94:381-4.
3.- Malik MA, Subramaniam R, Maharaj CH, Harte BH, Laffey JG. Randomized controlled trial of the Pentax AWS, Glidescope, and Macintosh laryngoscopes in predicted difficult intubation. Br J Anaesth 2009; 103:761-8.
4.- Cooper RM. Complications associated with the use of the GlideScope videolaryngoscope. Can J Anaesth 2007; 54: 54-7.
5.- Malik AM, Frogel JK: Anterior tonsillar pillar perforation during GlideScope video laryngoscopy. Anesth Analg 2007; 104: 1610-1.
6.- American Society of Anesthesiologists Task Force of Management of the Difficult Airway: Practice guidelines for management of the difficult airway: An updated report by the American Society of Anesthesiologists Task Force on Management of the Difficult Airway. Anesthesiology 2003; 98:1269-77.
7.- Cuchillo JV, Rodriguez MA. Considerations aimed at facilitating the use of the new GlideScope videolaryngoscope. Can J Anaaesth 2005; 52: 661; author reply 661-2.
8.- Dupanovic M: Maneuvers to prevent oropharyngeal injury during orotracheal intubation with the GlideScope videolaryngoscope. J Clin Anesth 2010; 22: 152-4.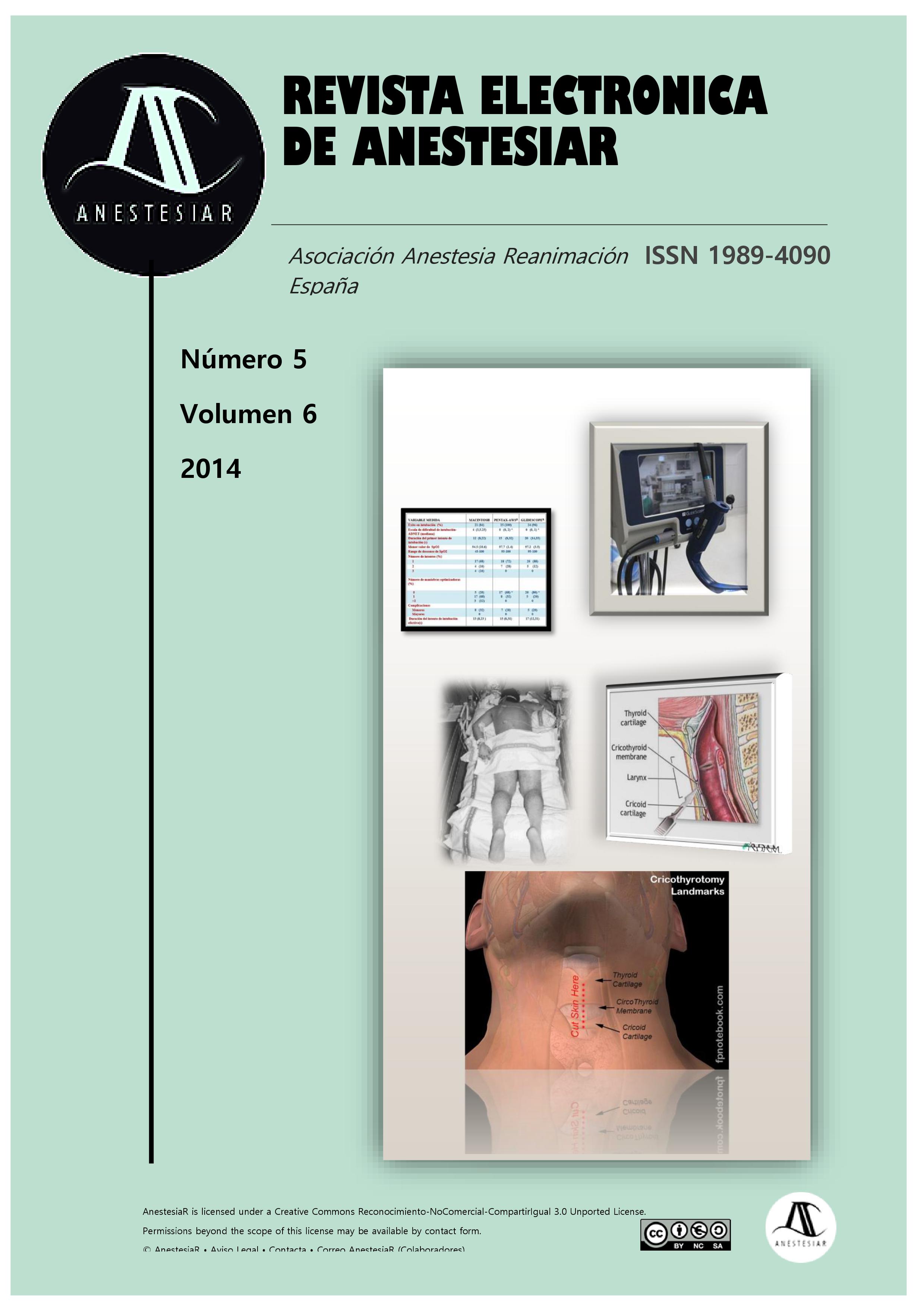 Cómo citar
Caro Cascante, M. del M. Uso del GlideScope en Vía Aérea Difícil en la práctica clínica diaria: Aziz M, Healy D, Kheterpal S, Fu R, Dillman D, Brambrink A. Routine Clinical Practice Effectiveness of the Glidescope in Difficult Airway Management. An Analysis of 2.004 Glidescope Intubations, Complications and Failures from Two Institutions. Anesthesiology Jan 2011; 114: 34-41. Revista Electrónica AnestesiaR, 6(5), 2. https://doi.org/10.30445/rear.v6i5.226
Sección
Comentarios de artículos