Uso profiláctico de ácido tranexámico en la prevención de la hemorragia postparto
Palabras clave:
Hemorragia Posparto, Acido tranexamico, Agente Antifibrinoloticos, Tratamiento Farmacologico, Fibrinolisis, Mortalidad
Resumen
Introducción: La hemorragia postparto es la principal causa de muerte materna. La incidencia de esta complicación se encuentra alrededor del 6% al 10% de todos los nacimientos. La hemorragia postparto se relaciona con múltiples factores maternos y fetales. El abordaje es multidisciplinario, inicia con la prevención y la valoración clínica sin retrasar el abordaje oportuno. En el manejo farmacológico, el acido tranexamico es un agente fibrinolítico útil y efectivo en la reducción del sangrado en partos vaginales y cesáreas. El objetivo es realizar una revisión no sistematica de la literatura sobre el uso profiláctico del ácido tranexámico en la prevención de la hemorragia postparto. Material y métodos: Se realizo una búsqueda de la literatura en las bases de datos de PubMed y Scielo de artículos actualizados y relevantes en inglés o español presentando la importancia de la prevención, diagnóstico y manejo farmacológico. Conclusion: La hemorragia postparto es una complicación con alta mortalidad materna por lo cual se deben establecer estrategias y protocolos intrahospitalarios, siendo ácido tranexámico una alternativa importante con resultados favorables, sugiriendo su uso profiláctico en este tipo de pacientes con diferentes consideraciones medicamentosas y algunos efectos adversos.
Citas
Bibliografia
Mousa HA, Blum J, Senoun GA, Shakur H, Alfirevic Z. Treatment for primary postpartum haemorrhage. Cochrane Databse Syst Rev. 2014 Feb; 2014(2): CD003249. doi: 10.1002/14651858.CD003249.pub3
Ker. K, Roberts I, Chaudhri R, Fawole B, Beaumont D, Balogun E, et al. Tranexamic acid for the prevention of porpartum bleeding in women with anemia: study protocol for an international, randomized, double-blind, placebo-controlled trial. Trials. 2018; 19. 712. doi: 10.1186/s13063-018-3081-x.
Henry DA, Carless PA, Moxey AJ, O'Connell D, Stokes BJ, McClelland B, et al. Anti-fribrinolytic use for minimizing perioperative allogenic blood transfusion. Cochrane Database Syst Rev. 2007 Oct 17;(4):CD001886. doi: 10.1002/14651858.CD001886.pub2.
Della Corte L, Saccone G, Locci M, Carbone L, Raffone A, Giampaolino P, et al. Tranexamic acid for treatment of primary postpartum hemorrhage after vaginal delivery: a systematic review and meta-analysis of randomized controlled trials. J Matern Fetal Neonatal Med. 2020 Mar;33(5):869-874. doi: 10.1080/14767058.2018.1500544.
Fyfe EM, Thompson JM, Anderson NH, Groom KM, McCowan LM. Maternal obesity and postpartum haemorrhage after vaginal and caesarean delivery among nulliparous women at term: a retrospective cohort study. BMC Pregnancy Childbirth. 2012 Oct 18;12:112. doi: 10.1186/1471-2393-12-112.
Pacheco LD, Saade GR, Hankins GDV. Medical management of postpartum hemorrhage: An update. Semin Perinatol. 2019 Feb;43(1):22-26. doi: 10.1053/j.semperi.2018.11.005.
Magann EF, Lutgendorf MA, Keiser SD, Porter S, Siegel ER, McKelvey SA, et al. Risk factors for a prolonged third stage of labor and postpartum hemorrhage. South Med J. 2013 Feb;106(2):131-5. doi: 10.1097/SMJ.0b013e3182824d1e.
Kavle JA, Stoltzfus RJ, Witter F, Tielsch JM, Khalfan SS, Caulfield LE. Association between anaemia during pregnancy and blood loss at and after delivery among women with vaginal births in Pemba Island, Zanzibar, Tanzania. J Health Popul Nutr. 2008 Jun;26(2):232-40.
Malhotra M, Sharma JB, Sharma S, Murthy NS, Arora R. Maternal and perinatal outcome in varying degrees of anemia. Int J Gynaecol Obstet. 202 Nov;79(2):93-100. doi: 10.1016/s0020-7292(02)00225-4.
Hunt BJ. The current place of tranexamic acid in the management of bleeding. Anaesthesia. 2015 Jan;70 Suppl 1:50-3, e18. doi: 10.1111/anae.12910.
Alves RL. Tranexamic acid – choosing the best dose. Rev Bras Anestesiol. 2020; 70(4):309-310. https://doi.org/10.1016/j.bjane.2020.07.002
Infante-Torres N, Molina-Alarcón M, Rubio-Álvarez A, Rodríguez-Almagro J, Hernández-Martínez A. Relationship between duration of second stage of labour and postpartum anaemia. Women Birth. 2018 Oct;31(5):e318-e324. doi: 10.1016/j.wombi.2017.11.009.
Pacheco LD, Hankins GDV, Saad AF, Costantine MM, Chiossi G, Saade GR. Tranexamic Acid for the Management of Obstetric Hemorrhage. Obstet Gynecol. 2017 Oct;130(4):765-769. doi: 10.1097/AOG.0000000000002253.
Suzuki S, Hiraizumi Y, Miyake H. Risk factors for postpartum hemorrhage requiring transfusion in cesarean deliveries for Japanese twins: comparison with those for singletons. Arch Gynecol Obstet. 2012 Dec;286(6):1363-7. doi: 10.1007/s00404-012-2461-9.
Simonazzi G, Bisulli M, Saccone G, Moro E, Marschall A, Berghella V. Tranexamic acid for preventing postpartum blood loss after cesarean delivery: a systematic review and meta-analysis of randomized controlled trials. Acta Obstet Gynecol Scand. 2016 Jan;95(1):28-37. doi: 10.1111/aogs.12798.
Bidolegui F, Arce G, Lugones A, Pereira S, Vindver G. Tranexamic Acid Reduces Blood Loss and Transfusion in Patients Undergoing Total Knee Arthroplasty without Tourniquet: A Prospective Randomized Controlled Trial. Open Orthop J. 2014 Jul 11;8;250-4. doi: 10.2174/1874325001408010250.
Sivaprasath P, Gounder RM, Mythili. Prediction of Shock by Peripheral Perfusion Index. Indian J Pediatr. 2019 Oct;86(10):903-908. doi: 10.1007/s12098-019-02993-6.
Terceros-Almanza LJ, García-Fuentes C, Bermejo-Aznárez S, Prieto-Del Portillo IJ, Mudarra-Reche C, Sáez-de la Fuente I, et al. Shock index and modified shock index. Med Intensiva. 2017 Dec;41(9):532-538. English, Spanish. doi: 10.1016/j.medin.2016.10.016.
Zhu CS, Cobb D, Jonas RB, Pokorny D, Rani M, Cotner-Pouncy T, et al. Shock index and pulse pressure as triggers for massive transfusion. J Trauma Acute Care Surg. 2019 Jul;87(1S Supple 1):S159-S164. doi: 10.1097/TA.0000000000002333.
Faraoni D, Carlier C, Samama CM, Levy JH, Ducloy-Bouthors AS. [Efficacy and safety of tranexamic acid administration for the prevention and/or the treatment of post-partum haemorrhage: a systematic review with meta-analysis]. Ann Fr Anesth Reanim. 2014 Nov;33(11):563-71. doi: 10.1016/j.annfar.2014.07.748.
Shahid A, Khan A. Tranexamic acid in decreasing blood loss during and after caesarean section. J Coll Physicians Surg Pak. 2013 Jul;23(7):459-62.
Ahmadzia HK, Phillips JM, Katler QS, James AH. Tranexamic Acid for Prevention and Treatment of Postpartum Hemorrhage: An Update on Management and Clinical Outcomes. Obstet Gynecol Surv. 2018 Oct;73(10):587-594. doi: 10.1097/OGX.0000000000000597.
Peter C, Dereu D, Casini A, Boulvain M, Savoldelli GL.
[Tranexamic acid for the management of postpartum haemorrhage : current knowledge]. Rev Med Suisse. 2018 Oct 17;14(623):1861-1865.
Xu J, Gao W, Ju Y. Tranexamic acid for the prevention of postpartum hemorrhage after cesarean section: a double-blind randomization trial. Arch Gynecol Obstet. 2013 Mar;287(3):463-8. doi: 10.1007/s00404-012-2593-y.
Gertler R, Gruber M, Grassin-Delyle S, Urien S, Martin K, Tassani-Prell P, et al. Pharmacokinetics of tranexamic acid in neonates and infants undergoing cardiac surgery. Br J Clin Pharmacol. 2017 Aug;83(8):1745-1757. doi: 10.1111/bcp.13274.
Grassin-Delyle S, Semeraro M, Foissac F, Bouazza N, Shakur-Still H, Roberts I, et al. Tranexamic acid through intravenous, intramuscular and oral routes: an individual participant data meta-analysis of pharmacokinetic studies in healthy volunteers. Fundam Clin Pharmacol. 2019 Dec;33(6):670-678. doi: 10.1111/fcp.12474.
Alves ALL, Francisco AA, Osanan GC, Vieira LB. Postpartum hemorrhage: prevention, diagnosis and non-surgical management. Rev Bras. Ginecol. Obstet. Vol.42 no.11 Rio de Janeiro Nov. 2020. https://doi.org/10.1055/s-0040-1721882
Naeiji Z, Delshadiyan N, Saleh S, Moridi A, Rahmati N, Fathi M. Prophylactic use of tranexamic acid for decreasing the blood loss in elective cesarean section: A placebo-controlled randomized clinical trial. J Gynecol Obstet Hum Reprod. 2021 Jan;50(1):101973. doi: 10.1016/j.jogoh.2020.101973.
World Health Organization. Updated WHO Recommendation on Tranexamic Acid for the Treatment of Postpartum Haemorrhage. Geneva, Switzerland: World Health Organization; 2017. https://apps.who.int/iris/bitstream/handle/10665/259379/WHO-RHR-17.21-eng.pdf;sequence=1.
Dresang L, Kredit S, Vellardita L. Does tranexamic acid reduce mortality in women with postpartum hemorrhage? J Fam Pract. 2019 Nov;68(9):E12-E13.
Gilad O, Merlob P, Stahl B, Klinger G. Outcome following tranexamic acid exposure during breastfeeding. Breastfeed Med. 2014 Oct;9(8):407-10. doi: 10.1089/bfm.2014.0027.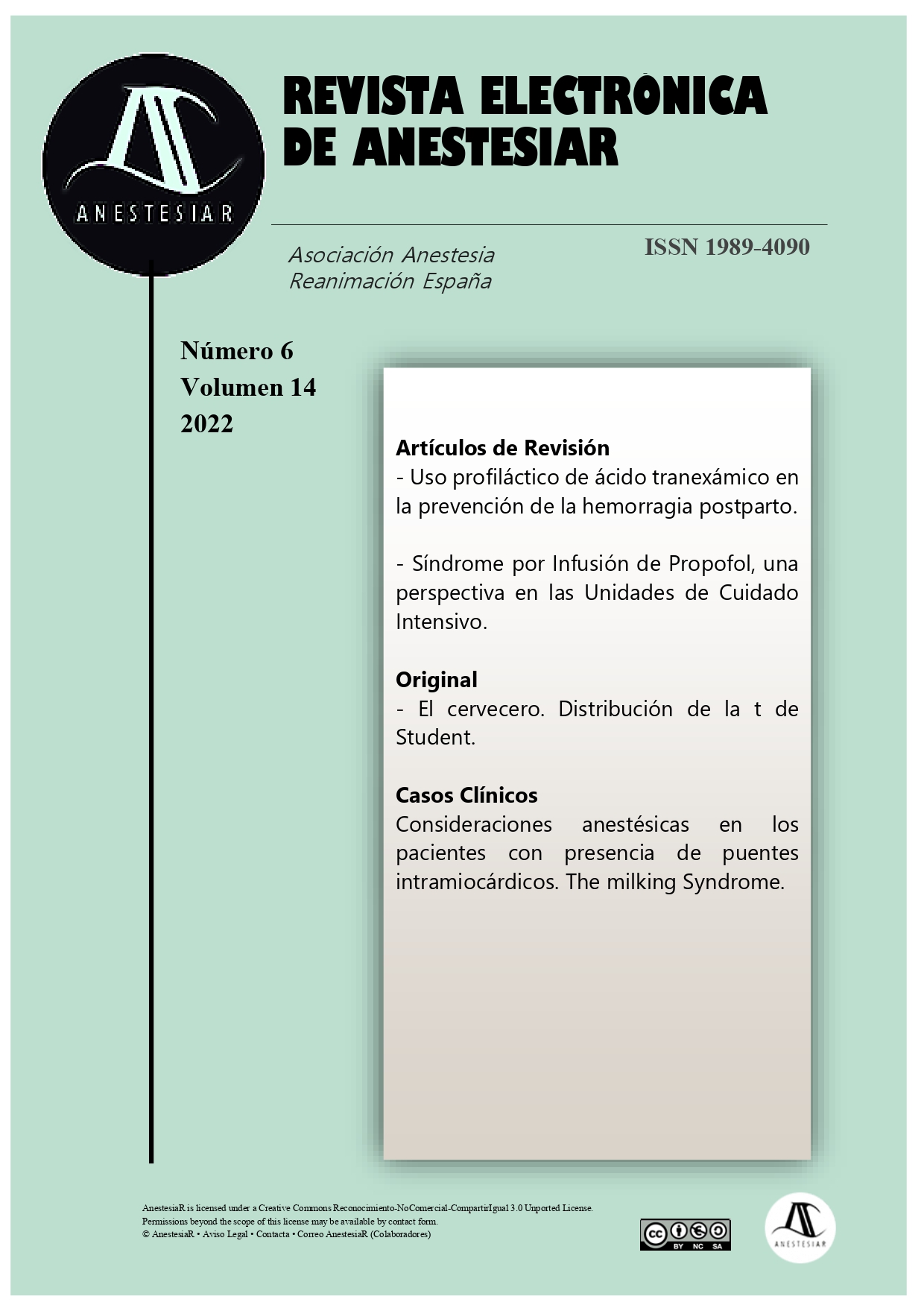 Descargas
Cómo citar
Camelo Pardo, G., Jiménez Orduz, A. ., & Archila Tibaduiza, L. J. (2022). Uso profiláctico de ácido tranexámico en la prevención de la hemorragia postparto. Revista Electrónica AnestesiaR, 14(6). https://doi.org/10.30445/rear.v14i6.1070
Sección
Artículos de revisión
Licencia
Derechos de autor 2022 Revista Electrónica AnestesiaR
Esta obra está bajo una licencia internacional Creative Commons Atribución-CompartirIgual 4.0.